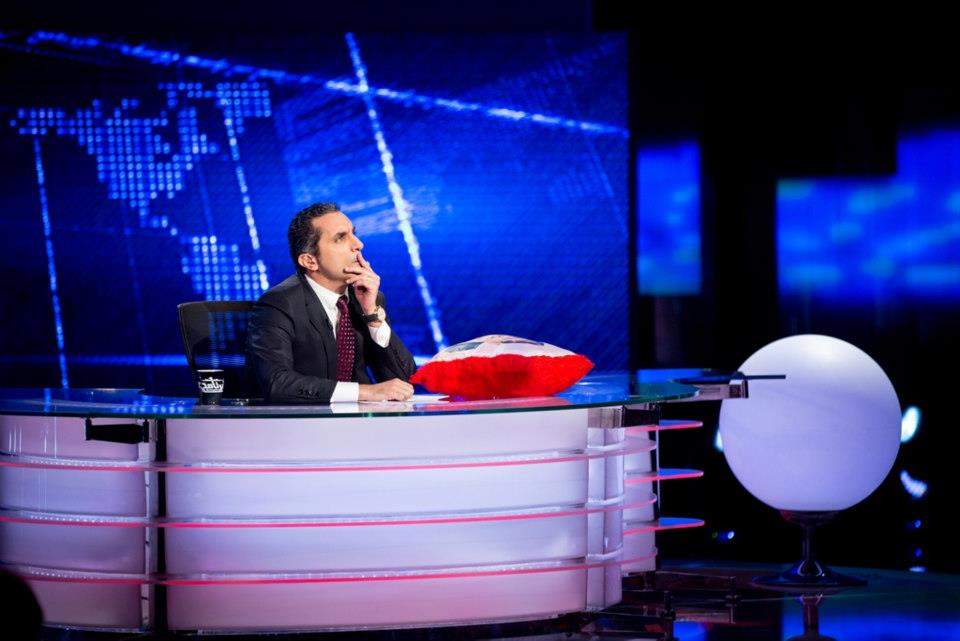 Political Comedian, Bassem Youssef in episode of his weekly show. - Photo from Facebook.
A number of Egyptian human rights lawyers formed a legal committee to defend freedom of expression on Monday. They will provide legal support for journalists and media workers who are exposed to threats and lawsuits while practicing their job.
The legal committee issued a statement saying that they will defend political satirist Bassem Youssef in the case filed against him to stop his weekly television show.
Youssef is accused of mocking President Mohamed Mursi and defaming religious scholars.
The statement added that the legal committee will establish an online page for receiving similar complaints of threats to the right of freedom of expression.
In a different incident, cartoonist Doaa al-Adl was accused of blasphemy for allegedly defaming religion in one of her caricatures.
In the same realm, a 27-year old blogger was sentenced to three years in prison for posting online materials that "defamed religions", a case which Amnesty International described as "an outrageous assault on freedom of expression".
Egypt director of Human Rights Watch Heba Morayef has recently commented on the alarming rise of criminal defamation cases, saying that "it is the greatest threat to freedom of expression".
Meanwhile, the Muslim Brotherhood's webpage reported that the Information Minister said that a new freedom of press law is being drafted to guarantee freedom of expression.