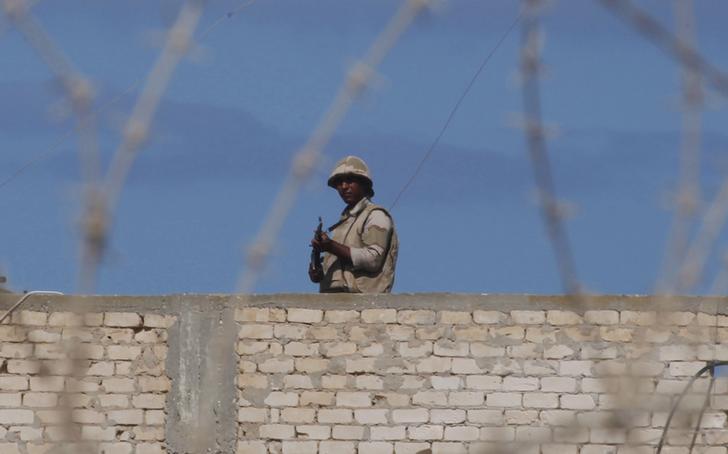 An Egyptian soldier guards the border between Egypt and southern Gaza Strip September 16, 2013. REUTERS/Ibraheem Abu Mustafa
CAIRO, Jul 1 (Aswat Masriya) - No less than 100 terrorists were killed by security forces in North Sinai on Wednesday, while 17 from the army were killed, the general command of Egypt's armed forces said.
In a statement aired on state television, the armed forces said the deceased army personnel include four officers, adding that 13 were injured.
It said many of the "terrorists" were injured in the operations carried out by the armed forces, assisted by the air force. It did not provide a figure on the injuries.
Simultaneous attacks targeting security checkpoints were carried out earlier on Wednesday.
The Sinai-based militant group Ansar Bayt al-Maqdis claimed responsibility for the attacks, which have been globally condemned.
The attacks on Wednesday come after Egypt's top prosecutor was assassinated in a car bomb attack in Cairo on Monday.

Militancy inside Egypt has seen a significant rise since the military ouster of Islamist president Mohamed Mursi in July 2013, which was prompted by mass protests against his rule.
The second anniversary of his ouster will be marked on Friday.