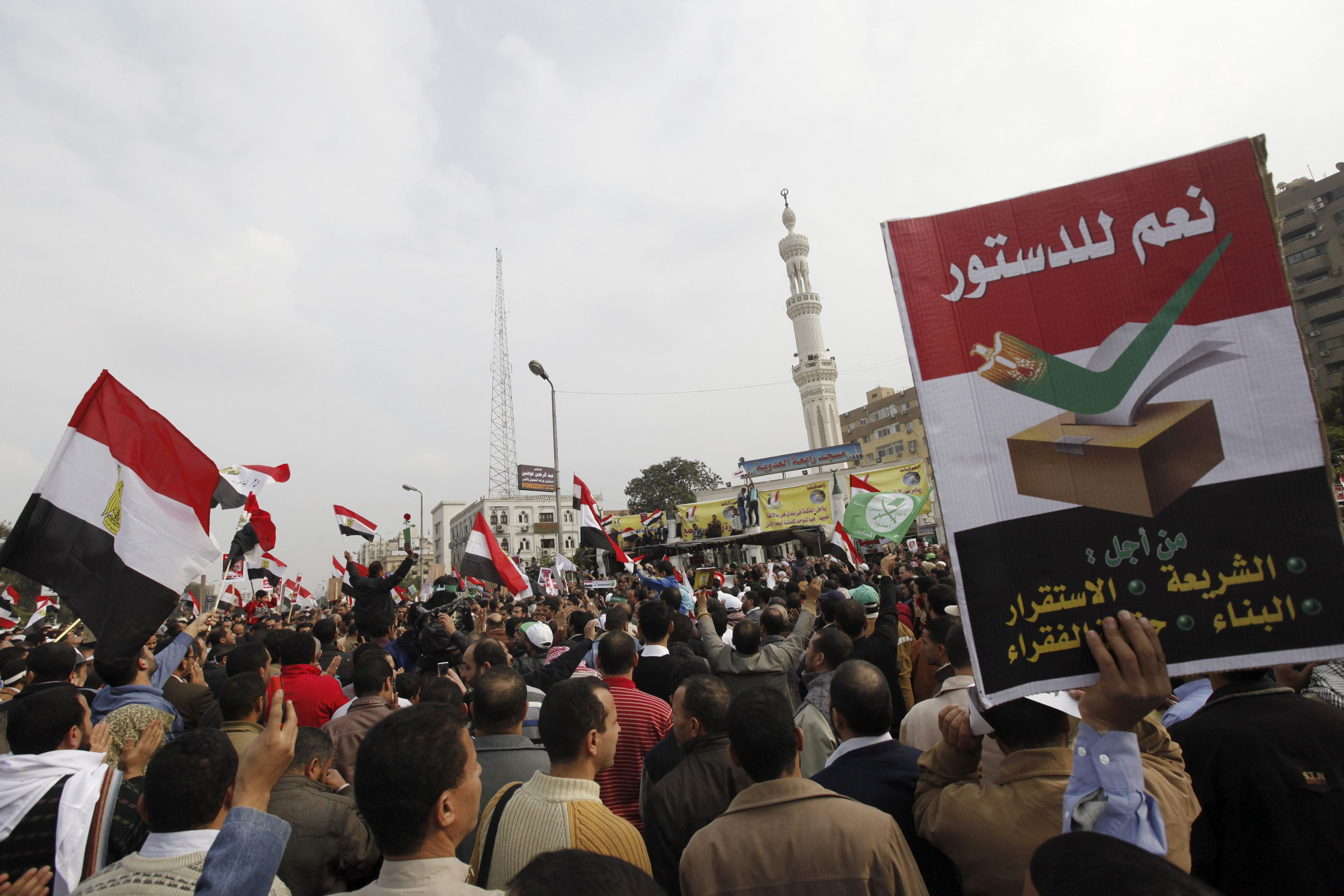 Supporters of Egyptian President Mohamed Mursi and members of the Muslim Brotherhood chant pro-Mursi slogans during a rally in Rabaa El Adaweya Mosque square in Cairo December 14, 2012. Flag-waving supporters of the president staged a final rally on Friday before a divisive referendum on a new constitution that the Islamist leader hopes will bring an end to weeks of political crisis and street clashes. The sign reads: "Yes to constitution" - REUTERS/Amr Abdallah Dalsh
Dozens of protesters have begun to gather at the main entrance to Cairo University, in preparation for a rally called for by Islamist groups under the slogan "together against violence."
A number of youth protesters wore T-shirts displaying the slogans of Islamist group Al-Gamaa Al-Islamiya and its political wing, the Construction and Development Party.
On Monday, the Construction and Development Party called on all Islamists and revolutionary youth to gather for a "million man march" in the spirit of "coming together against violence...and the continuation of the peaceful revolution."
A podium has been set up, with loudspeakers erected in the streets next to the main gate.
Banners in the area showed slogans including: "Purging the media is a public demand," "no to black masks," "trials for the killing of protesters," and "no to blocking off roads."
Dozens of street vendors were also seen circulating among the protesters.
In its statement calling for the mass demonstration, the Construction and Development Party said its goal was to achieve stability, maintain security, support the democratic transition, stop ongoing violence and end the division the country is witnessing.
On Thursday, the Salafist Asala Party said that it supports the goals of Friday's rally, but it would not participate.
In a statement posted on its Facebook page, the party explained it did not want to increase tensions between political factions in the country.
The Salafist Nour Party, the Salafist Watan Party and the moderate-Islamist Wasat Party also declined to participate.
The Muslim Brotherhood said in a statement on Wednesday that it would support the Friday protest with a "symbolic presence."
Egypt has been gripped by violence since January, when the second anniversary of the January 25 revolution and a contentious verdict in the Port Said football massacre case provoked protests and violent clashes, leaving at least 59 killed and hundreds injured.