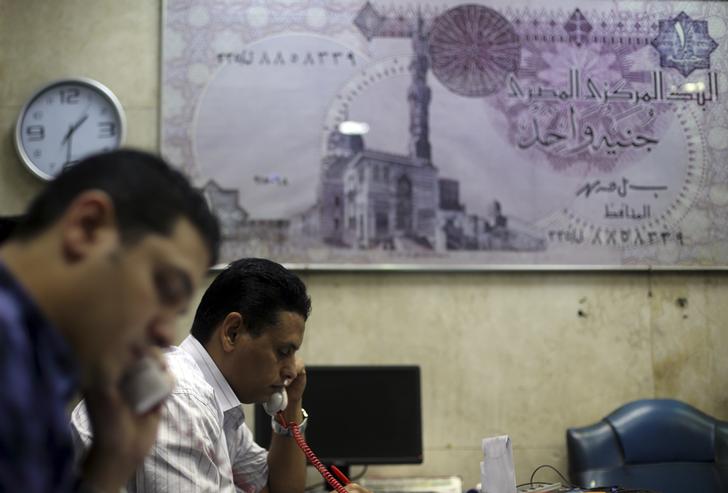 Employees speak on phones at an exchange office in downtown Cairo June 5, 2014. REUTERS/Amr Abdallah Dalsh
CAIRO, Oct. 20 (Aswat Masriya) - The budget deficit as a percentage of the gross domestic product (GDP) in the first two months of the ongoing fiscal year 2015/2016 is 2.4 percent, the equivalent to EGP 68.3 billion, the Finance Ministry said on Tuesday.
The percentage is similar to the deficit end recorded in the same period in the past fiscal year, which ended in June 2015, at a deficit of 2.3 percent of GDP.
The Egyptian government is expecting a budget deficit of 8.9 percent for the entire fiscal year which will end next June, totaling EGP 251 billion.
The state approved the current fiscal year's budget on July 1 after reducing the deficit from 9.9 percent of of GDP, or EGP 281 billion in an earlier draft.
The budget deficit for the months of July and August was caused by increases in both revenues and expenses, the ministry said in a monthly report. Revenues reached their highest level for this period of the year in the past three years but expenses also rose by 22.9 percent year on year.
The state budget for FY 2015/2016 expects growth to rise to five percent. Egypt's economic growth in all quarters of the previous fiscal year has yet to be released but is projected to be 4.2 percent.
The estimated state budget performance for the previous fiscal year is still being prepared, the ministry said.
However, earlier this month the International Monetary Fund projected that Egypt's economic growth for 2015 and 2016 will reach 4.2 and 4.3 percent, respectively. Similarly, the World Bank said "Egypt's economic growth could hover at about 4 percent in 2015 and 2016," in a statement on Oct. 5.
Both major financial institutions' projections are much lower than the 5 percent the Egyptian government hopes for.
Years of political turmoil have taken a toll on Egypt's economy, halving the state's foreign reserves and driving away tourists.
Foreign reserves tumbled to $16.335 billion at the end of September after dropping by around $2 billion and within the past week, Egypt's central bank has had to depreciate the pound twice.
Since January, the Egyptian pound has lost 79 piasters against the dollar, taking the currency's decline to the year to 11 percent.
President Abdel Fattah al-Sisi's administration has focused on attempting to repair the economy via mega projects such as the "New Suez Canal" and the Egyptian state has been hard at work to attract foreign investment but still faces hefty challenges.
(1 dollar = EGP 7.93)