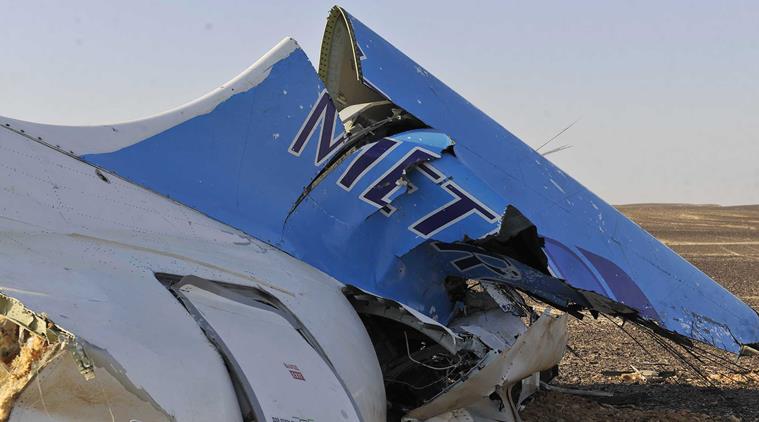 The remains of a Russian airliner which crashed is seen in central Sinai near El Arish city, north Egypt, October 31, 2015. REUTERS/Stringer
CAIRO, Nov. 13 (Aswat Masriya) – Egypt has not yet received official notification from Russian authorities regarding the reported ban of EgyptAir flights to Moscow, said Aviation Minister Hossam Kamal Friday.
He added that high-level talks are currently underway to clarify the situation.
Moscow-based Interfax new agency reported earlier on Friday that the Russian Federal Agency for Air Transport (Rosaviatsia) banned EgyptAir flights to Russia, citing security concerns.
Last Friday, Russia suspended all flights to Egypt including Cairo, in the aftermath of the Russian jet crash which left 224 passengers and crew members dead, most of whom were Russians.
The decision came following a phone conversation on Nov. 5 between British Prime Minister David Cameron and Russian President Vladimir Putin.
A Kremlin spokesman confirmed last week that the UK passed on "certain data" related to the incident which was not shared with Egypt.
The UK was the first country to suspend flights back and forth between UK and Sharm el Sheikh, in a decision based on intelligence information and advice that "it's more likely than not" the Russian plane was downed by an act of militancy, said Cameron.
On the same day, US President Barack Obama said "it's certainly possible that there was a bomb on board" and that the US is "taking that very seriously."
Both comments came a day after Islamic State affiliates in North Sinai also known as Sinai Province, claimed responsibility for the incident for the second time. In an audio recording, the speaker on behalf of the group said the downing of the plane marks the one-year anniversary of pledging allegiance to Islamic State fighters in Syria and Iraq.
Aswat Masriya couldn't independently verify the authenticity of the recording.
The militant group initially claimed responsibility for the incident hours after it happened. The claim was dismissed, because the possibility of using a surface-to-air missile at an altitude of about 31,000 feet was deemed improbable.
Since then, Egypt's airport security has been scrutinsed amid reports that airport personnel can be bribed by travellers to skip queues and avoid baggage scanners.
Egyptian officials have said that flight suspensions were "premature" since the investigation into the cause of the crash are still underway and that "all possibilities are on the table".
They have urged local and international media not to jump to conclusions until the international committee tasked with investigating the incident announces the results, just as the local media cried foul, claiming that Egypt is facing a massive Western conspiracy to scare off tourists and bring the economy to its knees.