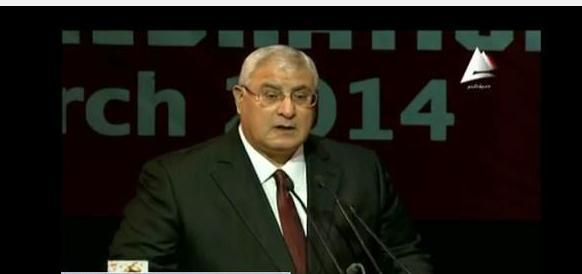 Egyptian President Adli Mansour giving a speech during the celebration of Art Day on March 13, 2013 - photo via Egyptian state television
CAIRO, Mar 13 (Aswat Masriya) - Egypt's President, Adli Mansour, has said that freedom of opinion and expression is guaranteed in all forms of art.
Art will remain an essential component in the lives of Egyptians, Mansour said during a speech to celebrate Egypt's Art Day.
The president urged artists to not leave the Egyptian art scene prey to tamper with the general Egyptian taste.
Celebrating the Art Day aims to revive noble human values, Mansour added.
The president, along with Prime Minister Ibrahim Mahlab and Defence Minister Abdel Fattah al-Sisi, has celebrated the Art Day for the first time in over three decades.
The celebration was held at the Opera House on Thursday at 8 p.m. The Art Day was not celebrated during the reign of former presidents Hosni Mubarak and Mohamed Mursi.
It was decided that 13 March will be Art Day from now on. The date coincides with the birth of the great Musician Mohamed Abdel Wahab.