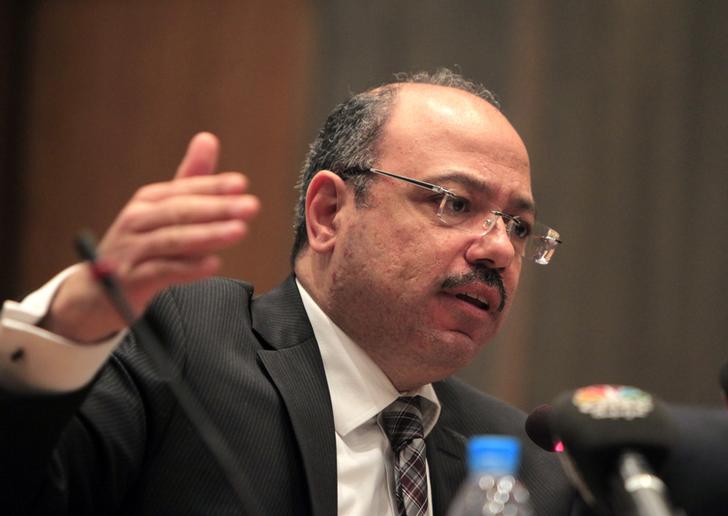 Dimian talks during a news conference in Cairo March 12, 2014. REUTERS/Mohamed Abd El Ghany
CAIRO, Nov 8 (Reuters) - Egypt received $10.6 billion in aid from Gulf states in the last fiscal year, the finance minister said on Saturday, the first time the government has put a total figure on how much its oil-rich allies spent to prop up the economy.
Of about 74 billion Egyptian pounds of aid received in the 2013-14 fiscal year, 53 billion pounds was in the form of petroleum products, with the remaining 21 billion pounds coming as cash grants, Hany Kadry Dimian told a news conference.
Saudi Arabia, the United Arab Emirates and Kuwait have provided Egypt with political and economic support since then-army chief Abdel Fattah al-Sisi ousted elected Islamist President Mohamed Mursi in July last year and led a crackdown on his supporters.
Sisi went on to win a presidential election in May and has promised to restore stability and growth to a country convulsed by turmoil since the 2011 overthrow of Hosni Mubarak.
Soon after Mursi's removal, Gulf states pledged Egypt about $12 billion aid. In September 2013, the Egyptian central bank chief said about $7 billion of that had been received. But Saturday's figures are the most concrete to date.
Although his critics say political freedoms have been eroded under Sisi, the government has passed a raft of reforms from subsidy cuts to tax hikes that have impressed business leaders.
Egypt's government deficit shrank as a percentage of gross domestic product last year, Dimian said, a positive sign for a government that is trying to balance cutting its deficit and reviving growth.
The deficit was 255.4 billion pounds, or about 12.8 percent of GDP, in 2013-14, he said, compared to 13.7 percent of GDP, or 239.7 billion pounds, in the previous year.
Egypt's spending on a generous subsidy system that is weighing on government finances rose by 10 percent last year, however, to 187.7 billion pounds. Most of last year's subsidies bill, 126 billion pounds, was for fuel, the minister said.
The government cut energy subsidies in July, the start of the current fiscal year, in a bid to better balance its books. But the move raised prices of gasoline, diesel and natural gas by up to 78 percent and caused a spike in inflation. (Reporting by Shadi Bushra; Editing by Catherine Evans)