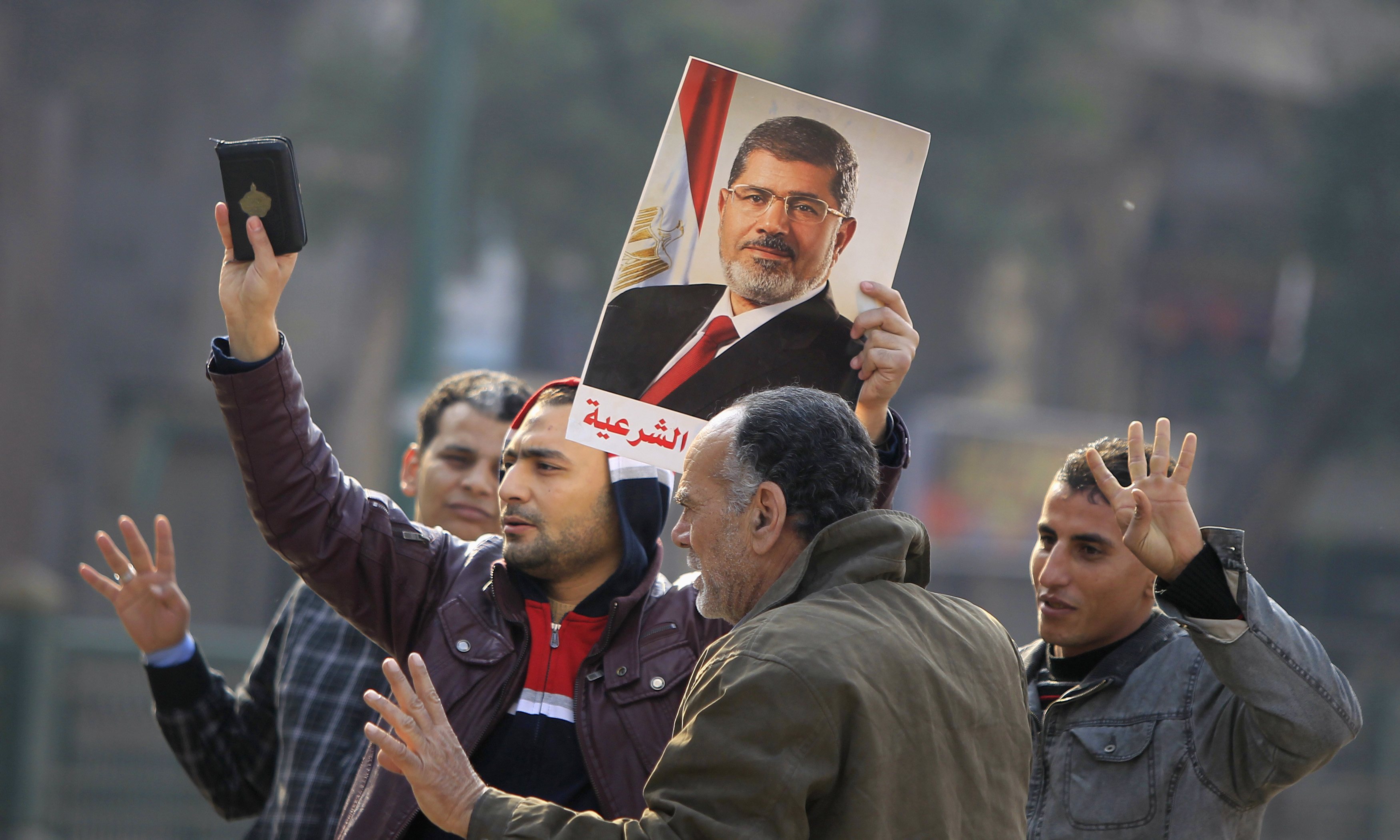 Supporters of the Muslim Brotherhood and ousted Egyptian President Mohamed Mursi hold a copy of the Koran and Mursi picture at Talaat Harb Square, in Cairo, January 25, 2015. REUTERS/Mohamed Abd El Ghany
CAIRO, Jan 25 (Aswat Masriya) - Twelve people were killed as protesters faced off with security forces in the Cairo district of Matariya, on the fourth anniversary of the January 2011 uprising, a hospital source said.
The source told Aswat Masriya that four of those killed received gunshot wounds to the head. The rest were shot in the back, abdomen or neck.
The medical source added that 34 people were reported injured. Sustained injuries included birdshot wounds, live ammunition wounds and suffocation from teargas.
Security forces fired teargas at protesters at the Muslim Brotherhood stronghold, an eye-witness said, adding that the latter responded with fireworks.
A policeman was among those killed in the Matariya clashes, Reuters reported, citing the ministry of health.
Sunday marks the fourth anniversary of the January 2011 uprising which toppled the regime of former President Hosni Mubarak.
Eighteen people were killed and 80 others were injured in violence which broke out nationwide on the uprising's anniversary, Health Ministry Spokesman Hossam Abdel Ghaffar told state-run news agency MENA.
Interior Ministry Spokesman Hany Abdel Latif said that around 150 people were arrested so far nationwide, the Association for Freedom of Thought and Expression reported.
Mursi's banned Muslim Brotherhood has been rallying for protests nationwide to commemorate the anniversary. A 17-year old girl was killed during a Brotherhood protest in Alexandria on Friday.
In anticipation of protests, security measures across Cairo have been heightened, specifically around major squares.
Tahrir square, located in Downtown Cairo, is considered one of the symbols of the uprising. Military vehicles have been situated at the entrances of the square and on roads leading to it, state-run MENA reported.