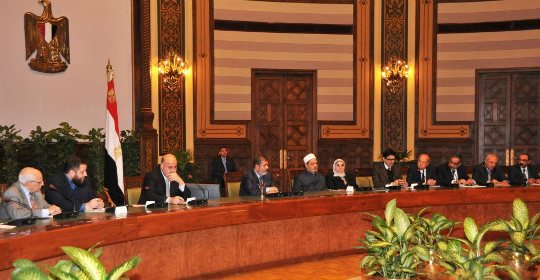 President Mohamed Mursi at a national dialogue session with some political powers and a wise men committee on December 8, 2012 - photo from presidency
The presidency began on Sunday evening the sixth round of its national dialogue sessions at its headquarters in Cairo's Masr al-Gedida.
Outgoing vice president Judge Mahmoud Mekki heads the national dialogue sessions which are sponsored by President Mohamed Mursi.
The session discussed in detail different proposals on drafting a parliamentary elections law that were put forward by several political powers, the Middle East News Agency (MENA) reported.
The outcome of this session's discussions will be presented to the Shura Council before the council discusses the draft law that the cabinet will put forward.
The fifth round of the national dialogue sessions last Wednesday witnessed discussions on the parliamentary elections law and the contentious articles that require amendments in the newly-drafted constitution.
The presidency had renewed its invitation for political forces to attend the fifth and sixth rounds especially after the result of the referendum on the constitution was officially announced last Tuesday.