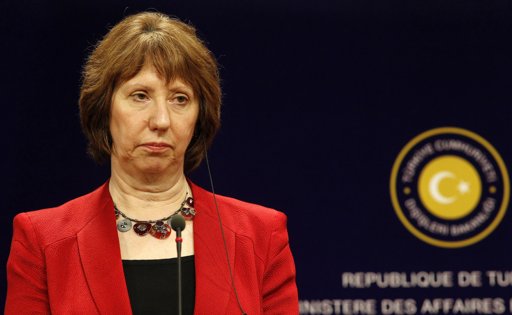 Catherine Ashton - Reuters
European Union foreign policy chief Catherine Ashton arrived in Cairo on Wednesday as part of a two-day visit ahead of a decisive presidential election.

The European diplomat is slated to meet with senior government officials, including interim President Adly Mansour and Foreign Minister Nabil Fahmy, to discuss the country's upcoming presidential election, a major political milestone scheduled for late May.

"I will surely be returning to Egypt as it prepares for presidential elections," Ashton told the European Parliament last week.

Ashton is also expected to hold talks with presidential hopefuls: resigned army chief Abdel-Fattah El-Sisi and Nasserist political figure Hamdeen Sabahi, a diplomatic source told state news agency MENA on Wednesday.

"We want to see good candidates coming forward so that the Egyptian people have a good choice," she told Ahram Online on Monday.

"We already see at least two candidates. We also want to see that this election is part of an inclusive process so that the people of Egypt can move forward together towards real economic and political opportunities for this great nation," Ashton added.

The senior diplomat has repeatedly urged Egypt to adopt an inclusive democratic process that engages all factions. She has voiced alarm over the use of violence against Islamists and the deepening polarisation gripping the country since the ouster of Islamist president Mohamed Morsi last summer.

"It is extremely important that Egypt brings people who believe in a democratic future to work together," Ashton said, adding that anyone who adopts violence must be stopped and condemned.

Hundreds of Islamists have been killed and thousands incarcerated in a broad crackdown on Islamists since Morsi's removal. Islamist militants have stepped up attacks against police and army targets, killing almost 500, mostly policemen and troops, in shootings, bombings and suicide attacks in recent months.

Ashton's visit is the fourth since Morsi's overthrow in July 2013 on the back of mass protests against his single year in power.

During an earlier visit, she met the Islamist leader, the country's first freely elected president, at an undisclosed location where he had been held since his overthrow. She also held talks with political figures, including leaders of Morsi's now-banned Muslim Brotherhood group.