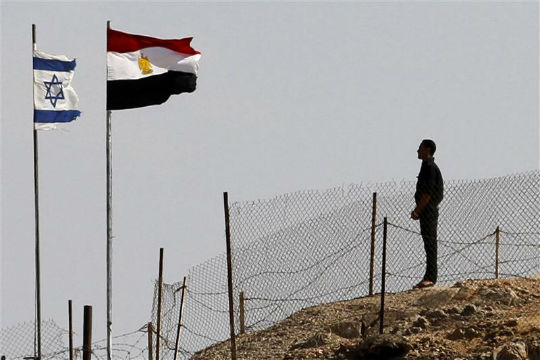 The border that divides Egypt and Israel - Mohamed Abdel Wahab/Reuters
Egypt's delegation in the United Nations requested placing Israeli nuclear facilities under inspections by the International Atomic Energy Agency.

Amr Roshdy, official spokesman of the Ministry of Foreign Affairs, said that Egypt's statement before the General Assembly of the United Nations criticizes Israel's constant disregard for UN resolutions. The statement was declared by Egypt's permanent representative at the UN, Ambassador Moataz Ahamdein Khalil, according to the Middle East News Agency.

He pointed out that Israel is the only country in the region engaged in nuclear activities outside the framework of international control. He explained that Israel's manner would result in the dispersion of Nuclear Weapons in the Middle East.

He stressed upon the importance of the Egyptian initiative to convene an International Review Conference during this year for the creation of a nuclear-weapons-free zone in the Middle East.

"Egypt has to seize the chance of materializing binding results out of this conference", he added.

He warned of the consequences of trying to elude this conference, it would cause the failure of the Convention on the Prevention of nuclear proliferation in 2015.