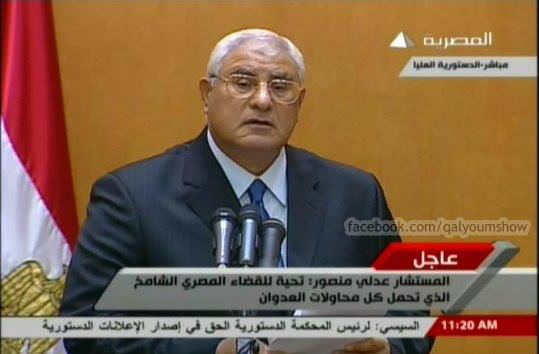 The head of the Constitutional Court Adli Mansour was sworn into office on Thursday as an interim president until early presidential elections are held. July 4, 2013.
CAIRO, July 4 (Reuters) - Egypt's new head of state said the Muslim Brotherhood were part of the people and were welcome to help "build the nation" a day after the military overthrew president Mohamed Mursi, the website of the state-run Al-Ahram newspaper reported.
President Adli Mansour made the comments to journalists after being sworn in as the interim head of state at the Supreme Constitutional Court in Cairo.
"The Muslim Brotherhood group is part of this people and are invited to participate in building the nation as nobody will be excluded, and if they responded to the invitation, they will be welcomed," he said. (Writing by Tom Perry/Yasmine Saleh; editing by Mike Collett-White)