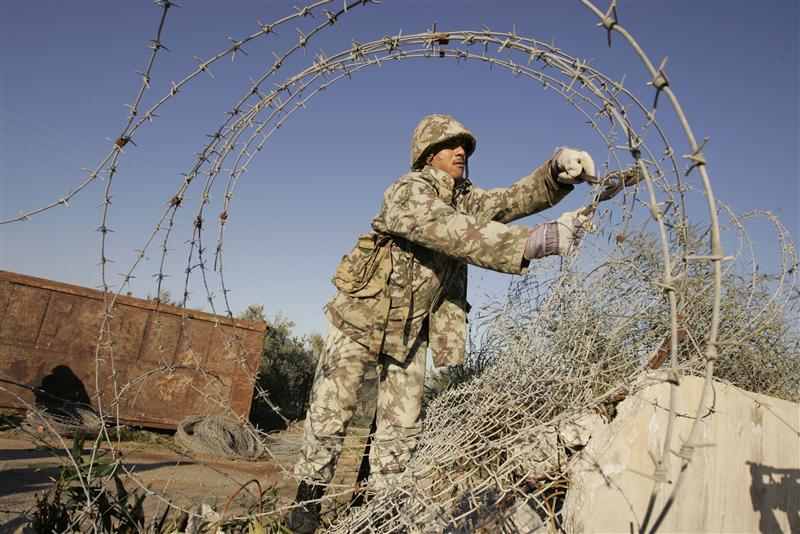 An Egyptian soldier in Sinai, 2008 - Mohamed Selim/Reuters
CAIRO, Mar 10 (Aswat Masriya) – Nine alleged members of Egypt's most active militant group Ansar Bayt al-Maqdis were killed on Tuesday following clashes with security forces in North Sinai, military sources said.
A military campaign reinforced with armoured vehicles and special forces clashed with a group of militants in Karm al-Qawadis south of Sheikh Zuweid, where six of them were killed and eight others arrested, the sources told Aswat Masriya.
Three more suspected Ansar members were killed in Sheikh Zuweid's Qabr Umeir area after clashing with security forces, the sources added.
Earlier today, three people, including a suicide bomber, were killed and at least 30 others were injured in two blasts outside a central security forces camp in North Sinai's al-Arish city.
Ansar Bayt al-Maqdis changed its name to Sinai Province after pledging allegiance to the leader of the Islamic State fighters in Iraq and Syria. It has claimed responsibility for a number of attacks against security personnel in Sinai.
Egypt's armed forces are carrying an intensified campaign to fight rising militancy in several parts of the country, particularly the Sinai Peninsula, following the military ouster of President Mohamed Mursi in July 2013 after mass protests against his rule.
The armed forces said on Sunday that 70 individuals, whom it described as "terrorists" were killed in operations carried out in the north of the Sinai peninsula, in the first week of March alone.
The armed forces had earlier said 173 militants were killed in operations in February.