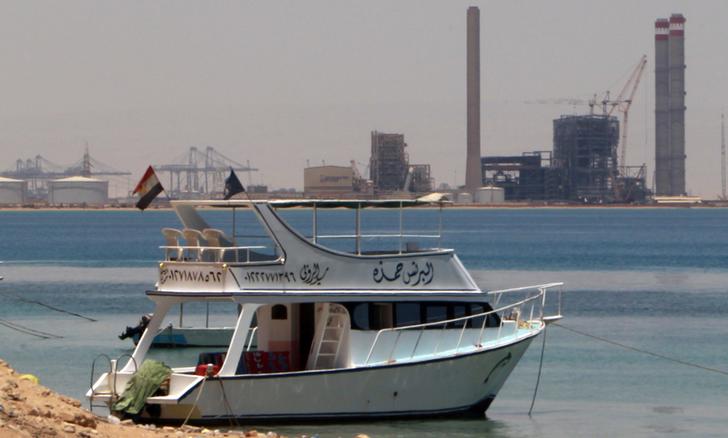 A boat is docked at a beach, near a cement factory at El Ain El Sokhna port in Suez, 140 km (87 miles) east of Cairo, July 6, 2012. REUTERS/Amr Abdallah Dalsh
CAIRO, Dec 16 (Aswat Masriya) – The South Sinai prosecutor ordered on Tuesday the detention of the captain of the Kuwaiti trade ship which crashed into an Egyptian fishing boat in the Red Sea on Sunday, as well as his assistant.
A fishing boat, 'Badr al-Islam', was carrying at least 40 Egyptian fishermen and sailing in the Gabal al-Zayt region when it collided with a trade ship in the Red Sea early Sunday, killing 13 fishermen.
The captain and his assistant were detained for four days pending investigation, the prosecutor general said in a statement. South Sinai Prosecutor Mohamed Amin accused them of murder and refraining from aiding the fishermen aboard the sunken boat.
The prosecution said that the assistant captain in custody was in charge of the ship when it collided with the boat, after the captain delegated to him the responsibility to sail through the sea.
Two other assistant captains were released from custody.
Thirteen more fishermen were injured in the accident, the prosecution said in its statement. The remaining fishermen went missing.
Egypt's naval forces recovered on Tuesday the bodies of four drowned fishermen, a military source said.
Shortly after the accident, the General Authority for the Red Sea Ports announced the confiscation of the trade ship which caused the accident.
Authority Spokesman Abdel Rehim Mostafa said the ship was carrying 220 tonnes of cargo.
Egypt's minister of social solidarity announced on Monday granting the families of those killed in the incident compensation worth of 10,000 Egyptian pounds.
Around 1000 people died in the Red Sea in February 2006 when a ferry sailing from Saudi Arabia caught fire, going down in history as one of Egypt's worst sea accidents.