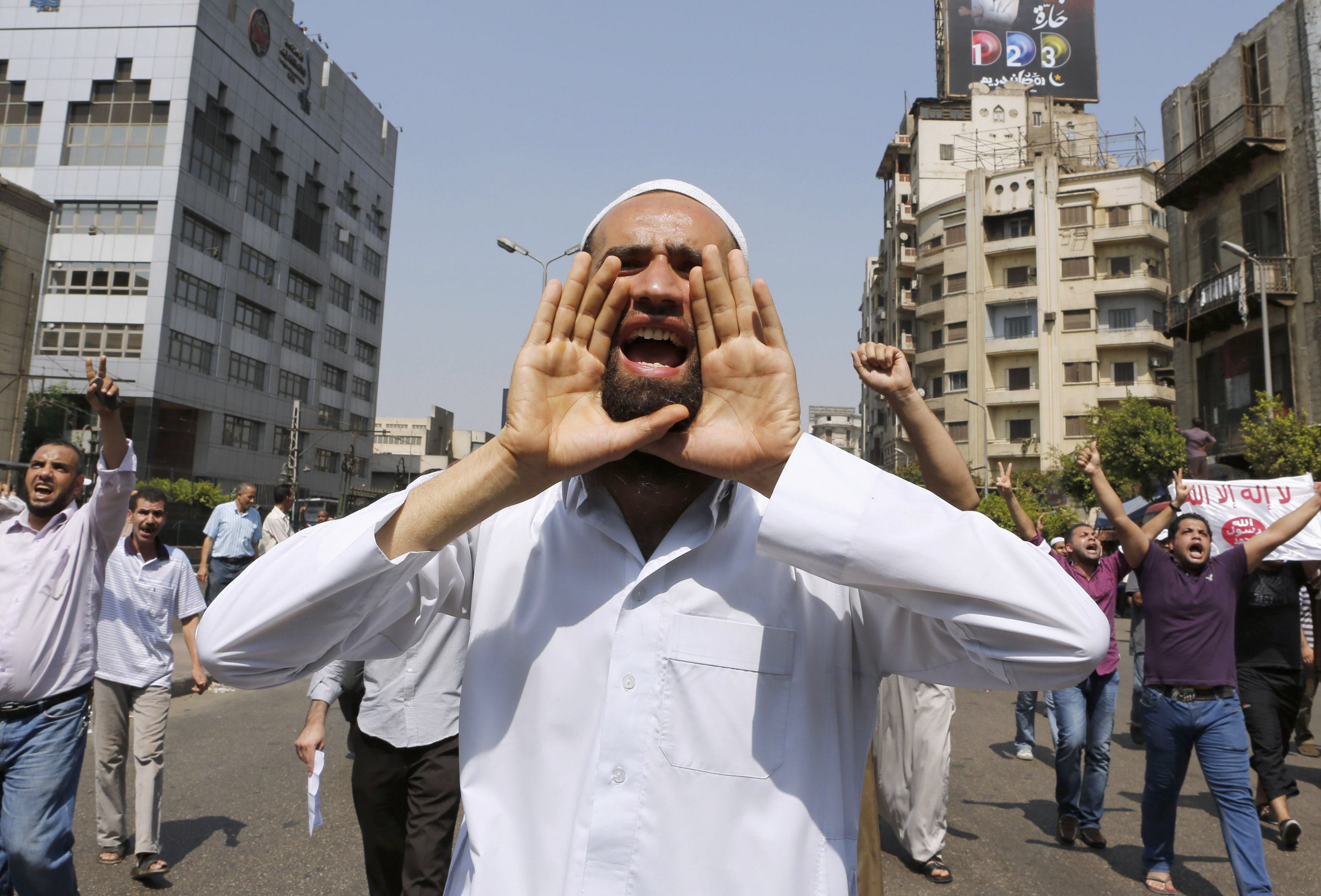 A member of the Muslim Brotherhood and supporter of ousted Egyptian President Mohamed Mursi shouts slogans in Cairo August 16, 2013. REUTERS/Louafi Larbi
CAIRO, Dec. 20 (Aswat Masriya) – A criminal court sentenced 17 people to three years' maximum security imprisonment during their retrial on Sunday for violence dating back to 2013.
This trial originally included 191 defendants, some of whom are high profile like the Muslim Brotherhood's Supreme Guide Mohamed Badie and leading member Mohamed El-Beltagy.
In August, the court ruled in the case, sentencing Badie, Beltagy and 17 others to life imprisonment. At the time, the court also acquitted 68 defendants, sentenced 28 to 10 years of maximum security prison and handed 76, who were being tried in absentia, life sentences.
The court's decision today was part of the retrial of some of the defendants who had been sentenced in absentia and does not affect the August decision for the defendants who were in court.
Egyptian law provides for a retrial for a person sentenced in absentia once he or she is arrested.
The defendants brought to court for this case are accused of involvement in violence in the north eastern city of Port Said in August 2013.
According to an official investigation, Badie and other Brotherhood figures encouraged group members to storm into a police station, "murder the policemen inside," steal the weapons and smuggle the detainees out. This left five dead and injured several policemen.
Official charges leveled against the defendants include murder, attempted murder, "forming an armed mob with the purpose" of storming the Arab Police Station and "killing everyone inside" and stealing weapons.
Since the July 2013 military ouster of then-president Mohamed Mursi, Muslim Brotherhood leaders and prominent figures have often found themselves behind bars and facing trials.
The Egyptian state insists that the Muslim Brotherhood is behind the wave of militancy which has targeted security personnel since July 2013.
The Brotherhood continuously deny the accusations.
Mursi was removed from power by the military after mass protests against his rule but he and his support base consider the power change a coup.
In June, Mursi himself was sentenced to death after being accused of escaping the Wadi al-Natroun prison during the January 2011 uprising.