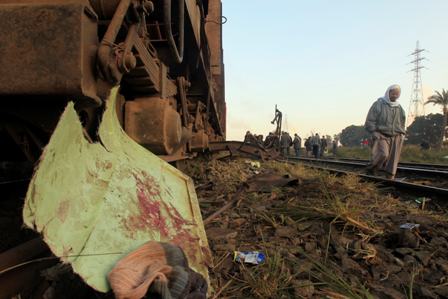 (ARCHIVE) Belongings and traces of blood of victims are seen at the wreckage of a military train crash in the Giza neighbourhood of Badrashin, about 40 km (25 miles) west of Cairo, January 15, 2013. REUTERS/Mohamed Abd El Ghan
CAIRO, Dec 15 (Aswat Masriya) - Five people were killed and one person was injured on Monday after two houses collapsed in Upper Egypt's governorate of Assiut, the ministry of health said.
The injured person was transferred to Assiut University Hospital, while the bodies of the victims were taken to the morgue at Elwan Central Hospital, the ministry added.
At least 18 people were killed on November 25 after an eight-storey building collapsed in the suburb of Matariya, north east of Cairo.
A survey conducted by the Cairo-based Egyptian Initiative for Personal Rights (EIPR) in June concluded that 392 residential buildings collapsed in Egypt from July 2012 until June 2013, killing 192 people and rendering 824 families homeless.
The organisation blamed the frequent building collapses on the "lax enforcement" of laws regulating construction as well as the "lack of proper planning and development."