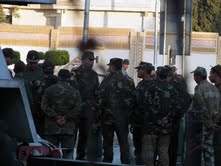 Army forces at the Ittihadeya presidential palace on December 6, 2012 - Aswat Masriya
CAIRO, Jan 15 (Aswat Masriya) Clashes erupted in Cairo's Heliopolis on Wednesday, the last day of a constitutional referendum seen by the interim government as a stepping stone towards democracy, but by Islamists, who have boycotted it, as illegitimate.
Security forces blocked the roads leading to the presidential palace after Roxy Square in Heliopolis witnessed violent confrontations.
An eyewitness told Aswat Masriya that supporters of ousted President Mohamed Mursi set a kiosk on fire and that he saw one injured man.
A pro-Mursi alliance had called for demonstrations against the two-day referendum that began on Tuesday.
Mursi's supporters have been staging protests since the army ousted him in July in response to mass demonstrations across the country.