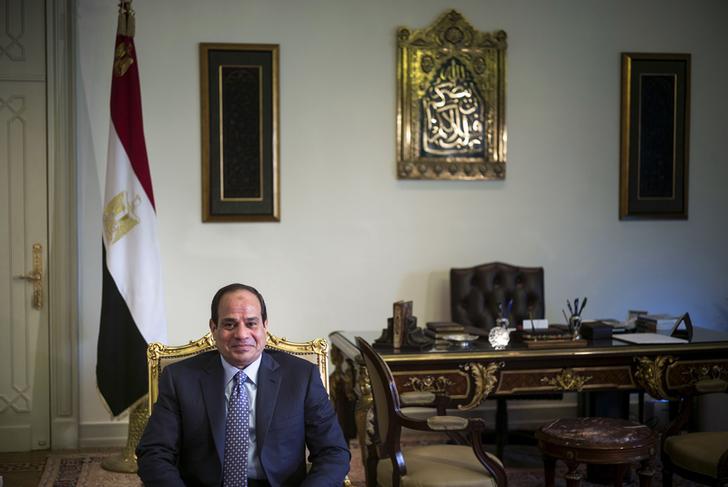 Egyptian President Abdel Fattah al-Sisi sits in his office at the Presidential Palace in Cairo June 22, 2014. REUTERS/Brendan Smialowski/Pool
CAIRO, Jul 1 (Aswat Masriya) - The state budget for the fiscal year 2015/16 was approved by President Abdel Fattah al-Sisi on Wednesday, the finance ministry spokesman Ayman al-Qafas told Aswat Masriya.
A presidency source similarly said that Sisi approved the budget.
On Wednesday morning, a governmental official said the budget's issuance was due today but has been delayed as the presidency is following up with militant attacks on security checkpoints and facilities in North Sinai which have left dozens killed.
Egypt's Finance Ministry published on late Tuesday a part of the financial statement on the draft budget, reducing the expected budget deficit to 8.9 percent of the gross domestic product.
The cabinet had approved a draft of the budget two weeks ago, with a deficit of 9.9 percent of the GDP, or 281 billion Egyptian pounds.
The new draft budget targets general investments worth 75 billion pounds, making up 2.7 percent of the GDP. It also expects growth to rise to 5 percent, as opposed to an expected 4.2 percent in the 2014/2015 fiscal year.
Sisi's administration has largely focused on fixing Egypt's battered economy, which has been suffering badly due to four years of political turmoil since an uprising toppled former President Hosni Mubarak in 2011.
The government reduced petroleum subsidies and introduced new taxes last July, hiking fuel prices by up to 78 percent.