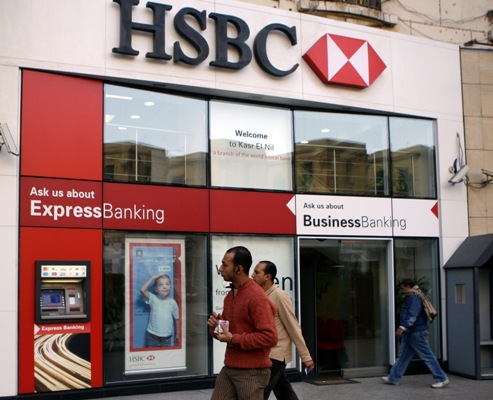 Men walk in front of a HSBC bank branch in downtown Cairo December 16, 2009. REUTERS/Tarek Mostafa
DUBAI, Feb 3 (Reuters) - Egypt's non-oil private sector shrank in January for the first time since last July, as both output and new orders fell slightly, a corporate survey showed on Tuesday.
The HSBC Egypt Purchasing Managers Index dropped to 49.3 points last month from 51.4 in December; a reading above 50 indicates expansion and below 50, contraction.
"The numbers show that Egypt's recovery remains weak and vulnerable to downside risk. While we continue to except an upward trajectory for the economy, the gains will come off a low base," said Razan Nasser, senior economist at HSBC.
Poor weather conditions and the economic crisis in Russia, which hit export orders, were partially responsible for weaker demand in January, the survey said.
This caused Egypt's non-oil private sector companies to cut their workforces for the second straight month in January, though the rate of job shedding was unchanged from December's marginal pace.
Input costs increased in January with purchase prices rising at their sharpest rate in four months and staff costs only climbing marginally. In general, companies reduced their output prices. (Reporting by Andrew Torchia)