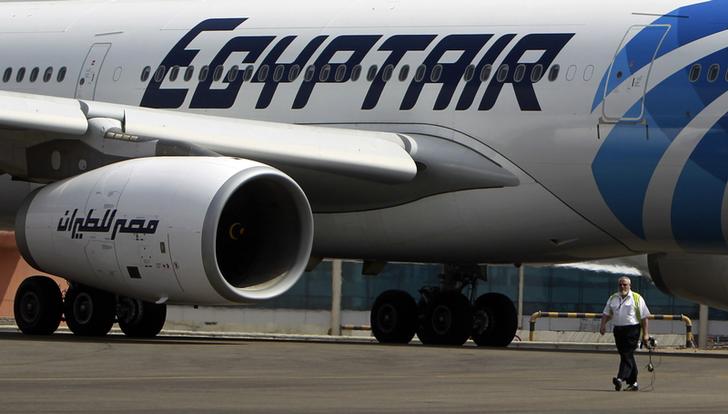 An airport staff walks next to an EgyptAir plane on the runway at Cairo Airport, September 5, 2013. REUTERS/Mohamed Abd El Ghany
CAIRO, Nov. 13 (Aswat Masriya) – Egypt's Aviation Ministry received an official confirmation from Russia on the cancellation of EgyptAir flight to Moscow Saturday morning.
High-level talks are currently being conducted to understand the reasons behind the decision and the status of future flights in light of what Russian news agencies have reported, said a statement by Aviation Ministry. The statement added that Egypt's national airliner will book seats on other airlines leaving to travellers affected by the decision.
EgyptAir runs three flights to Moscow per week on Saturdays, Tuesdays and Thursdays.
Moscow-based Interfax news agency reported earlier on Friday that the Russian Federal Agency for Air Transport (Rosaviatsia) banned EgyptAir flights to Russia, reported, citing security concerns.
Aviation Minister Hossam Kamal said that "Egypt's aviation authority is in contact with the Russian side to know the motives of the decision," of which the authority wasn't officially informed.
Last Friday, Russia suspended all flights to Egypt including Cairo in the aftermath of the Russian jet crash which left 224 passengers and crew members dead, most of whom were Russians.
The decision came following a phone conversation on Nov. 5 between British Prime Minister David Cameron and Russian President Vladimir Putin.
A Kremlin spokesman confirmed last week that the UK passed on "certain data" related to the incident which was not shared with Egypt.
Although the investigation is still underway theories on the downing of the plane abound. The U.S. and the UK have officially entertained the possibility that the Russian flight was brought down by a bomb planted on board, sending ripples across the world and raising questions on Egyptian airport security.
Egyptian officials have said that flight suspensions were "premature" since the investigation into the cause of the crash are still underway and that "all possibilities are on the table".
They have urged local and international media not to jump to conclusions until the international committee tasked with investigating the incident announces the results, just as the local media cried foul, claiming that Egypt is facing a massive Western conspiracy to scare off tourists and bring the economy to its knees.