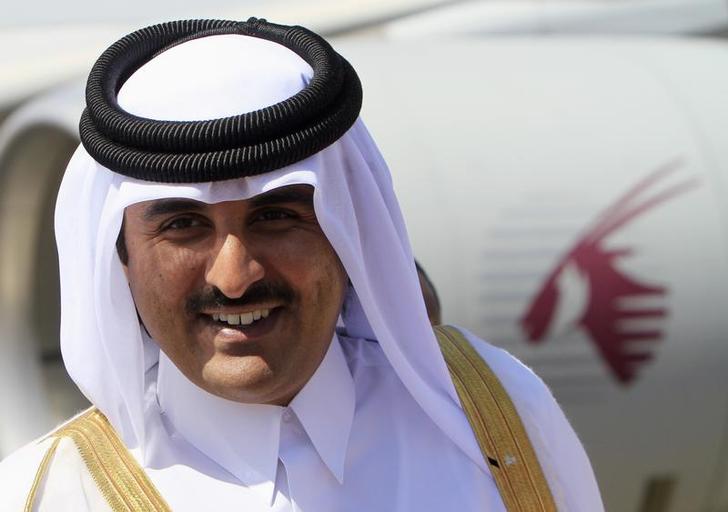 Qatari then Crown Prince Sheikh Tamim Bin Hamad Al Thani smiles during his arrival for an economic ties visit at Khartoum Airport December 4, 2011. REUTERS/Mohamed Nureldin Abdallah
CAIRO, Mar 31 (Aswat Masriya) - Qatar reinstated on Tuesday its ambassador to Cairo after a disruption which lasted over a month, the state agency MENA reported.
Qatar recalled on February 18 its ambassador for "consultations" over a statement made by Egypt's envoy to the Arab League Tareq Adel, its Foreign Ministry had said.
Egypt had urged the AL council in February to support the airstrikes it carried out against militants in Libya in response to beheading 20 Coptic Egyptians inside Libya at the hands of militants believed to belong to the Libyan division of the Islamic State fighters.
Adel had said then that Egypt won the support of all AL members except for Qatar, which he accused of "supporting terrorism".
The ambassador's return comes days after Qatari emir Sheik Tamim bin Hamad Al Thani was in Egypt, heading his state's delegation during the AL summit held last Saturday and Sunday in the resort city of Sharm el-Sheikh.
Egyptian ties with Qatar have deteriorated following the army's ouster of Islamist President Mohamed Mursi in July 2013, which was prompted by mass protests against his rule. Qatar was a strong supporter of Mursi's regime.
Egypt withdrew its ambassador to the Gulf state in March 2014 following critical comments made by the Qatari emir on Egypt's domestic affairs.
Nevertheless, Egypt and Qatar both embraced an appeal by the late Saudi King Abdullah in December 2014 to consolidate relations between them.
Both countries are now part of a Saudi-led coalition which is carrying out airstrikes on Yemen to halt the Shi'a Houthis' advances' in the conflict-torn country.