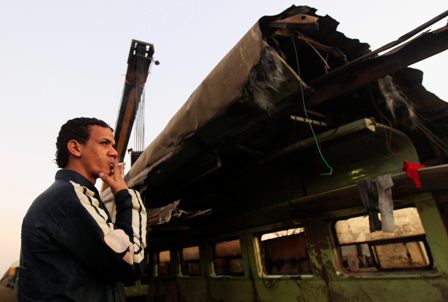 A man smokes beside the wreckage of a military train crash in the Giza neighbourhood of Badrashin, about 40 km (25 miles) west of Cairo, January 15, 2013. REUTERS/Mohamed Abd El Ghany
President Mohamed Mursi held on Tuesday evening a meeting to discuss the causes of the Badrashin train accident and present the Ministry of Transport's plans to develop Egypt's railways.
According to a statement for the presidency, Prime Minister Hisham Kandil, Minister of Transport Hatem Mohamed Abdel Latif, Minister of Local Development Mohamed Ali Beshr and Head of the Railway Authority Hussein Zakariya al-Fadali attended the meeting which lasted for three hours.
Mursi demanded immediate investigation in the tragedy, adding that those accountable for the accident should be punished.
He emphasized the need for reviewing plans for the railway sector.
The railway authority's plan for development will be presented to Mursi next Saturday in a comprehensive meeting.
Nineteen conscripts were killed and 107 others were injured after their train derailed on Tuesday morning.
This fatal accident is the second of its kind within three months as 50 school pupils were killed last November when a train crashed into their bus in Upper Egypt's Assiut.