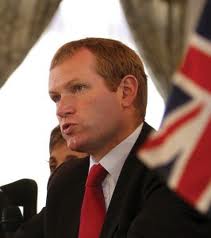 British Minister of State, Jeremy Browne.
A British Home Office minister, Jeremy Browne, said during a press conference in Cairo on Monday that the United Kingdom is committed to the recovery of stolen assets by Mubarak-era officials and is doing its best to simultaneously respect the rule of law and the rights of the Egyptian people.
"There is no advantage for London to be a safe haven for the storage of stolen assets; the United Kingdom has a long tradition of financial accountability and the respect for rule of law and it is not ready to undermine it," Browne affirmed.
The UK government came under attack after a BBC report in September indicated that it had failed to freeze the assets of former members of the ousted Mubarak regime, despite the availability of sufficient evidence.
"The taskforce that has been set up by Prime Minister David Cameron, that includes governmental officials and experts from the metropolitan police, is utterly dedicated and is working around the clock to speed up the process. This is not an overnight process; it will take time," Browne said.
The British government had claimed on several occasions that criminal convictions were necessary to freeze assets of key Mubarak regime figures.

"It is important to differentiate between extradition and the recovery of stolen assets. We are in charge of the latter. Extradition is not the government's duty; international law regulates that," said Browne during the conference.

Browne told Ahram Online that British citizenship is not an obstacle to the process of asset recovery, and is not taken into consideration during the investigations.
"British citizenship does not serve as immunity for its holder," Browne told Ahram Online, denying allegations that the government could be protecting certain Mubarak-era figures because of their British citizenship.

The British minister denounced claims that the UK is reluctant or not serious towards the recovery of stolen assets.
"I do not accept this perception; the taskforce visiting Cairo is proof that we are taking this matter seriously."
The taskforce, composed of Browne and experts from the metropolitan police, met with Egyptian officials and agreed to send a permanent official to the British embassy in Cairo, to follow up developments on both sides.