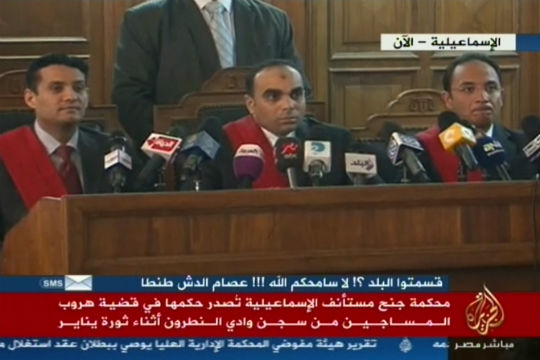 An Ismaliya misdemeanor court asked the International Criminal Police Organization to arrest the men it accused of complicity in the raiding of Wadi al-Natroon Prison during the 2011 uprising that toppled Hosni Mubarak.
CAIRO, Jan 22 (Aswat Masriya) – A bomb exploded on Thursday damaging the house of the judge presiding over the "prison break" trial in which ousted president Mohamed Mursi is a defendant, security sources and eyewitnesses said.
The eyewitnesses told Aswat Masriya that in the early hours of Thursday, unidentified assailants in a car threw the explosive device at Judge Khaled Mahgoub's house, located in Helwan, south of Cairo.
There were no casualties but the blast smashed the windows of the house and partially damaged the walls.
Mursi is being tried alongside 130 others for allegedly escaping from the Wadi al-Natroun prison during the 2011 uprising that toppled former President Hosni Mubarak.
The defendants are charged with murder and attempted murder of policemen, torching government buildings, breaking into prison and helping prisoners escape. Some of the defendants, including members of Hamas and Hezbollah, are being tried in absentia.
The former president, ousted since July 2013, faces charges in several other trials, including espionage charges, insulting the judiciary and inciting to kill protesters.