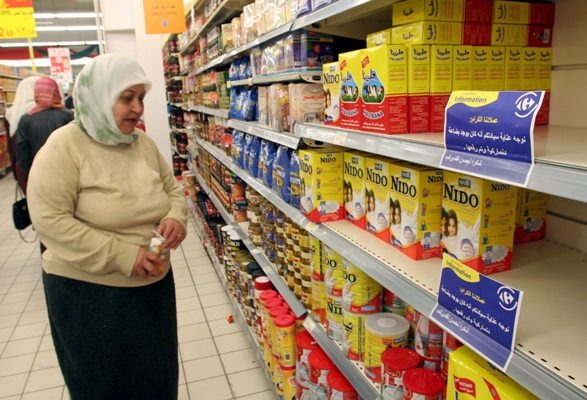 An Egyptian stands in front of an empty shelf with a note in a Cairo supermarket February 2, 2006. REUTERS/Aladin Abdel Naby
CAIRO, Jan 20 (Aswat Masriya) – Egypt's administrative court lifted on Tuesday a ban on the assets of the Seoudi chain of supermarkets, which was seized last June for allegedly belonging to a Muslim Brotherhood businessman.
Security forces had seized the supermarket chain on June 15, 2014, as per the orders of a committee established to estimate the funds of the Muslim Brotherhood. The committee had ordered the seizure of the assets of a number of Brotherhood businessmen, including Abdel Rahman Seoudi.
A lawsuit challenging the committee's decision nevertheless denied that the businessman owns the supermarket. Tuesday's court ruling came in favour of the lawsuit.
Security forces also seized the Zad chain of supermarkets, owned by Muslim Brotherhood leading figure Khairat al-Shater.
An urgent matters court ordered the confiscation of the Muslim Brotherhood's capital and dissolving any organisations affiliated with it in September 2013, establishing the said committee to oversee the ruling's implementation.
The committee has confiscated the assets of hundreds of the group's members. It has also seized the organisation's headquarters nationwide, as well as the headquarters of its Freedom and Justice Party.
Egypt's administrative court has revoked decisions issued by the committee more than once, citing the criminal court's exclusive jurisdiction over assets' seizure, and consequently the committee's lack of jurisdiction.
On December 16, a court overturned the committee's decision to seize the assets of 17 Brotherhood leaders.
Egypt listed the Brotherhood as a terrorist organisation in December 2013 and insists it is behind the stringent wave of militancy which has targeted security personnel since the ouster of former Islamist President Mohamed Mursi. The Brotherhood continuously denies the accusations.