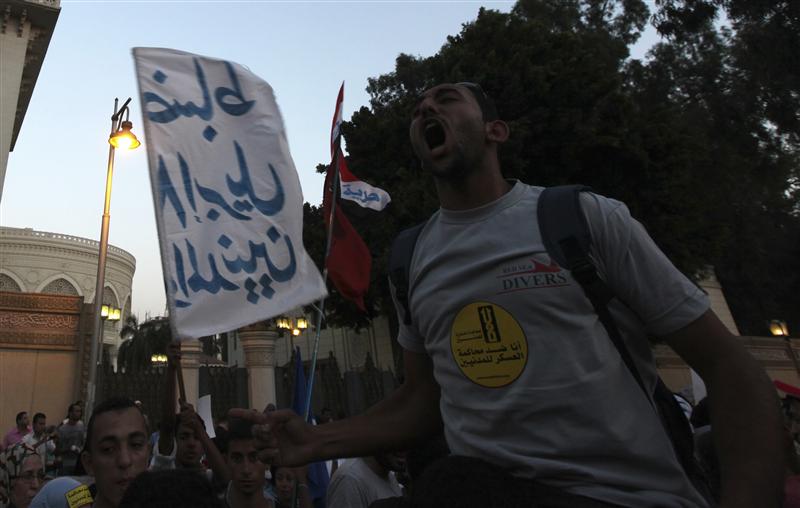 Activists chant against military trials for civilians by the presidential palace - Reuters
CAIRO, Sept 11 (Reuters) - An army prosecutor sent an Egyptian journalist to a military court on Wednesday for allegedly publishing false news and tipping Islamist militants to the location of troops in the Sinai region bordering on Israel, an army statement said.
Ahmed Abu Deraa of the privately owned al-Masry al-Youm daily was charged with "harming national security by providing militants with locations of security forces in Sinai", according to a statement sent to the newspaper and seen by Reuters.
The newspaper has called for his release and provided him with a lawyer, who could not be reached for comment on the case.
A colleague of Abu Deraa, who requested anonymity because he was not authorised to speak on behalf of the newspaper, said the reporter was accused of spreading false news in an interview with a private television station and in Twitter messages.
Since the army overthrew elected Islamist President Mohamed Mursi in July, civil rights groups have voiced fears of a return to the authoritarian era of former President Hosni Mubarak, who was ousted by a pro-democracy uprising in 2011.
His rule was marked by human rights' abuses and the use of military tribunals to prosecute activists, journalists and political opponents.
Abu Deraa was arrested earlier this month in north Sinai, where militants have stepped up attacks since Mursi's removal.
The army launched an offensive against Islamist militants in the lawless peninsula this week involving dozens of tanks as well as armoured vehicles and attack helicopters. At least 30 people were killed or wounded and nine arrested.
Six army officers were killed on Wednesday in two car bomb explosions near military units in Sinai.
Another 10 soldiers and seven civilians were wounded in the attacks that took place in the border town of Rafah, adjoining the Palestinian Gaza Strip. (Reporting and writing by Yasmine Saleh; Editing by Paul Taylor)