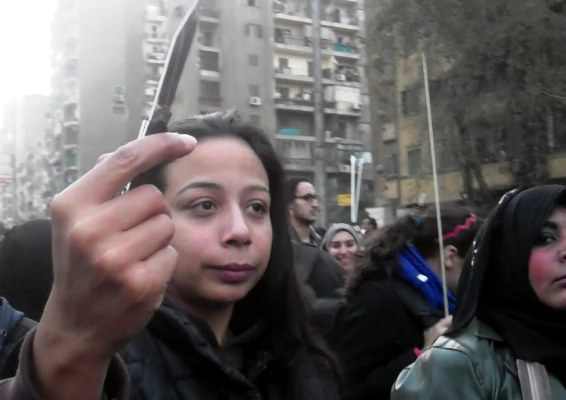 A protester marches carrying a bladed weapon in a march against sexual harassment on February 6, 2013 - Aswat Masriya
UN Women Executive Director, Michelle Bachelet, has expressed concerns over recent violence against women in Egypt during their participation in political demonstrations.
Bachelet sees that despite the increasing of violence and harassment that women in Egypt are facing in public spaces, the issue is widely neglected with not enough laws or policies to tackle it.
Head of Egypt's Council for Women, Mervat al-Talawy, insisted during her meeting with Bachelet on Tuesday morning on Egypt's keenness to issue a final document, agreed on by the international community, on ending violence against women.
Talawy pointed to the importance of shifting the techniques that the UN uses to tackle the issue, stressing that the Egyptian authorities are keen on keeping the UN's office in Cairo.
She held bilateral meeting with other state representatives to ensure that the under-construction document is agreed on by all parties.