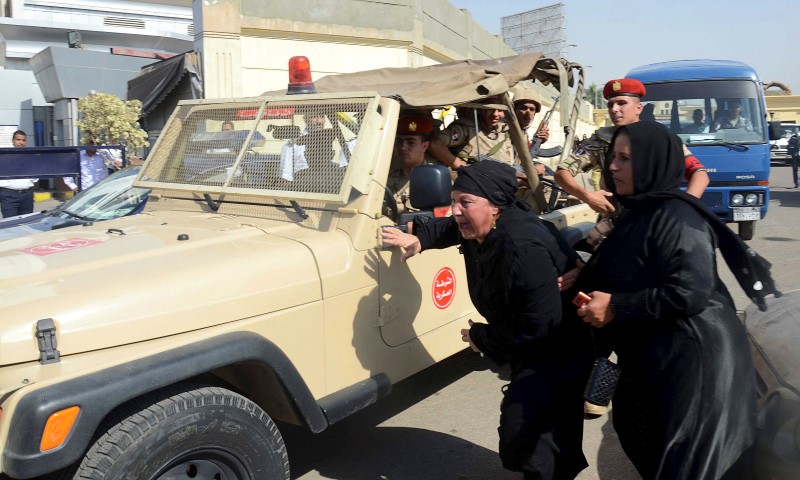 Family members of security forces killed in Sinai on Friday react near an army vehicle as they wait for the bodies of their relatives at Almaza military airbase in Cairo October 25, 2014. REUTERS/Al Youm Al Saabi Newspaper
CAIRO, Nov 10 (Aswat Masriya) – Egypt's armed forces announced on Monday killing one "terrorist" in its "war on terrorism" in the Sinai Peninsula and other areas nationwide.
Armed forces Spokesman Mohamed Samir said in a statement that the armed forces carried out "successful strikes against terrorists and criminals" in North Sinai, Ismailia, Port Said and Daqahliya on Sunday.
Security forces also arrested 36 "terrorists and criminals" on Sunday, Samir said. They destroyed an underground tunnel in North Sinai and 26 "terrorist headquarters".
Egypt's security forces have intensified their measures in reaction to repeated militant attacks that target army and police officials, which rose significantly since the ouster of former Islamist President Mohamed Mursi.
At least 30 military personnel were killed in a suicide blast which targeted a security checkpoint in Sinai's Sheikh Zuweid on October 24. The explosion, the worst militant attack on security personnel since Mursi's ouster, also caused damage to two military vehicles.
Shortly afterwards, a separate attack by unidentified gunmen on a security checkpoint in Arish killed three more security personnel.
President Abdel Fattah al-Sisi declared a three-month state of emergency and a nighttime curfew in parts of the Sinai Peninsula in response to the deadly attacks.
Security forces have specifically upped their attacks in the Peninsula since then.
Samir announced on Saturday that the armed forces killed 19 "terrorists" in crossfire while "raiding terrorist epicentres" in the governorates of North Sinai, Ismailia, Damietta and Daqahliya during the past 10 days. They killed eight more in North Sinai on Saturday, he added the next day.