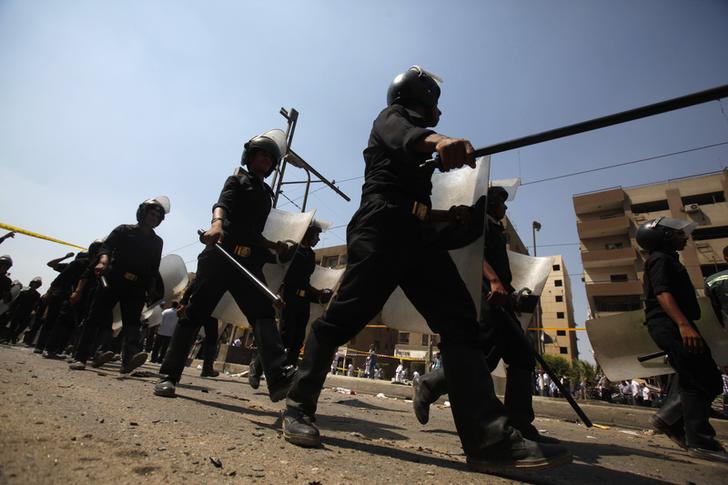 Archive photo of central security forces headed to disperse protest in Cairo - Reuters
CAIRO, Sept 16 (Aswat Masriya) - The Egyptian security forces have arrested members of the "Terrorist Brotherhood Organisation" who were involved in attacks on policemen and armed forces in four governorates, said an Interior Ministry statement issued Tuesday.

"Two people possessing an electrical short circuit, a bucket of flammable material, cartridge and homemade bullets of the same caliber were arrested in Damietta while two others escaped," according to the statement.

In addition, five people possessing arms were arrested in Alexandria following investigations that revealed "the intention of the terrorist Brotherhood to revive the military wing of the organisation, which targets military and police facilities."

The statement said that the arrested confessed to torching police cars and placing explosive devices in different areas of Alexandria.

Another was arrested in Dakahlia who also confessed to forming a cell that follows the Brotherhood.
The police also arrested four people involved in tracking police cars and torching them in Ismailia.
Egypt has declared the Brotherhood a terrorist movement last December in response to a wave of violence that followed the overthrow of Islamist President Mohamed Mursi in July. The Brotherhood says it is a peaceful group.

Hundreds of members of the Brotherhood and their leaders are currently standing trial. Some of them, including their leader Mohamed Badie, were sentenced to life in prison on charges of inciting violence and collaborating with foreign entities.