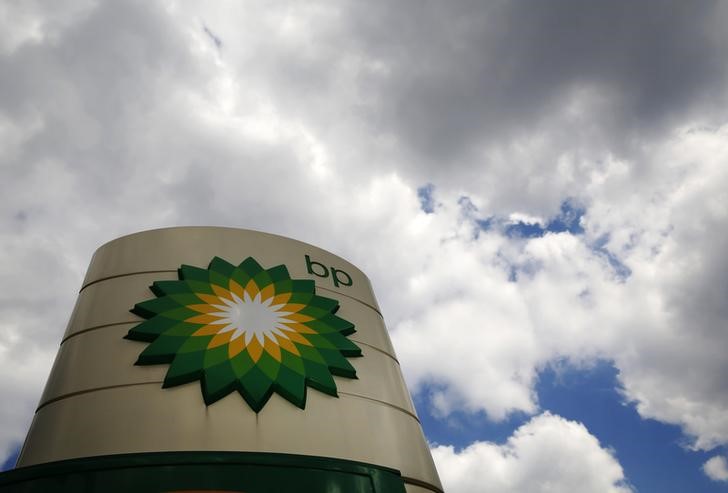 Signage for a BP petrol station is pictured in London July 29, 2014. REUTERS/Luke MacGregor
By Shadi Bushra
CAIRO (Reuters) - British gas company BG is in advanced talks that could boost supplies to power-hungry Egypt by allowing rival BP to use its pipelines, the head of BG Egypt told Reuters.
A deal could enable BG to raise production at its Egyptian operations, which account for about one-fifth of its global gas output but have been hit hard by the turmoil that followed the overthrow of Egyptian president Hosni Mubarak in 2011.
The companies are in talks to link their gas developments off Egypt's north coast by routing around 350 million cubic feet of gas a day from two undeveloped BP fields into BG's under-used WDDM offshore pipeline network.
"We've been having discussions with BP at a fairly advanced stage. I am sure the agreement will be signed in due course," BG Egypt President Arshad Sufi said, adding a deal would be "for everybody's benefit."
Egypt is battling its worst energy crisis in decades. Rising energy consumption and decreasing production have turned it from a net energy exporter to a net importer in the last few years and caused persistent blackouts.
Meanwhile finding supplies for the Idku plant in Alexandria, one of BG's two liquefied natural gas (LNG) plants in Egypt, has become a priority for BG, which issued a profit warning in January due to production cutbacks in Egypt.
Sufi said BG was looking at "many options" to boost production in Egypt. "Of course in the Eastern Mediterranean there's a lot of other discovered gas. So we're in discussions with different parties," he said.
Cyprus Hydrocarbons said it was in talks to send gas through BG's infrastructure into Egypt. The group developing Israel's Leviathan gas field has also said it is eyeing Egypt for exports through BG-owned pipelines.
"I would say those are early days at this stage, these things generally take a while to work through," Sufi said.
He added BG was renegotiating the terms under which it sells to Egypt, after Eni and Dana Gassaid they were seeking better prices from the government.
"We are negotiating some revised conditions that would allow us to make future investments ... I think the government recognises as well that you need to have a price that enables people to invest," he said.
Egypt owes BG $1.2 billion but Sufi said the country was taking steps to repay firms and improve the energy landscape.
"I have every confidence they will fix the situation for the industry at large," he said. "They recognise the importance of that."
(Editing by Michael Georgy and Mark Potter)