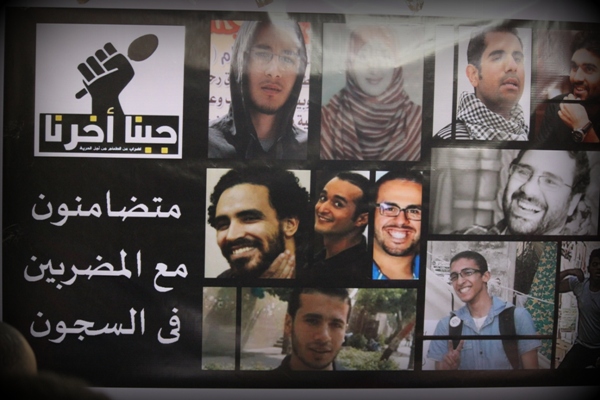 The Freedom for the Brave movement announced a gradual hunger strike in solidarity with those in prison during a press conference, on September 7, 2014. Ahmed Hamed - Aswat Masriya
CAIRO, Sept 12 (Aswat Masriya) - A coalition of Egyptian parties has called upon its members to go on a symbolic hunger strike on Saturday demanding the release of detainees held under protest law charges.
The coalition, formed of al-Dostour party, Egyptian Social Democratic party, the Egyptian Popular Current, Socialist Popular Alliance Party, Egypt Freedom, and Bread and Freedom parties, has expressed solidarity with hunger-striking detainees in a statement released by al-Dostour party.
The Parties also demanded the amendment of the protest law, which they described as "breaching basic rights stipulated in the constitution and contradicting what the Egyptian people have achieved in the wake of the January 25 revolution.
The parties will open their headquarters on Saturday and join the hunger strike to emphasize the justice of their demands to drop the protest law on and release prisoners "after the authorities adamantly ignored their demands over the past months."
The Freedom for the Brave, a movement calling for the release of those detained pending politically-motivated charges, announced on Sunday a gradual hunger strike campaign.
The movement described hunger strikes as "the only way" to show solidarity with detainees and support their "legitimate" demands.
They called for the release of all those detained on background of the protest law, issued by former interim President Adli Mansour in November to regulate peaceful assembly. The law has long been the epicentre of wide criticism by domestic and international human rights organisations, which say it violates international standards for peaceful protests.
"We can only say have had enough of the ruling authority's dictatorial practices," read a statement released by the movement during a Sunday press conference. "We have had enough of the policy of gagging mouths and crushing those different [from the mainstream]."
The Freedom for the Brave movement's announcement comes amid an ongoing hunger strike campaign, gaining momentum by the day, with over 100 already on hunger strike inside and outside prisons, according to movement member Ahmed Atef.
Political activists Alaa Abdel Fattah, Ahmed Douma and Sanaa Seif are all in jail for violating the protest law; Seif is detained pending trial. The activists, and tens of others, have announced going on hunger strike until their release.
Hunger-strikes have lately become a common tool to protest detention, used by those arrested for political reasons.