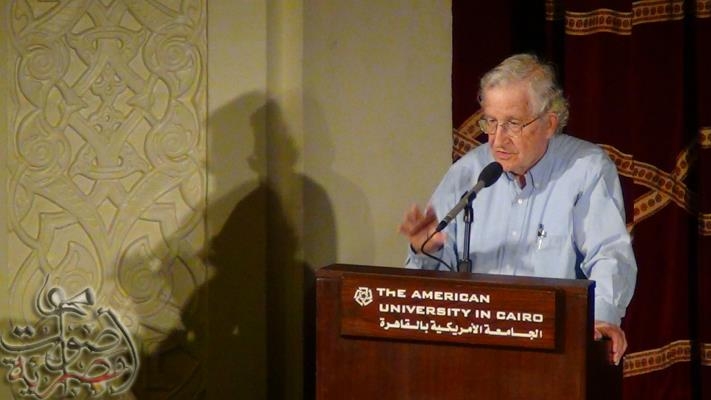 Philosopher and political analyst Noam Chomsky at the American University in Cairo on October 23, 2012. Ahmed Hamed/Aswat Masriya
A petition condemning the arrest, detention and torture of peaceful activists in Egypt has been signed by dozens of international academics, trade unionists and political and rights activists.
The 'Defend democratic rights in Egypt' petition was initiated by the US-based Egypt Solidarity Campaign, which supports the 2011 uprising against Hosni Mubarak.
Signatories include including prominent writers Noam Chomsky and Naomi Klein.
The letter was addressed to interim President Adly Mansour and Prime Minister Hazem Beblawi.
Allegations of arbitrary arrests and torture of activists have been on the rise in Egypt in recent months.
The authorities have repeatedly denied torture takes place in the country.
Most of those detained, including hundreds of Islamists, are accused of breaking a new protest law which requires an official permit in advance of any demonstration or public conference.
Those detained include independent leftist activist Alaa Abdel-Fattah, April 6 Youth Movement founders Ahmed Maher and Mohamed Maher, and Egyptian Popular Current member Ahmed Douma.
Leftist activist Khaled El-Sayed, a former member of the now-dissolved Revolutionary Youth Coalition, which was founded during the January 25 uprising, was one of those to publish his torture testimony.
"Since the Egyptian revolution of 2011, one government after another has pledged to hold the state's security apparatus accountable for its abuses of Egyptian citizens, and one government after another has failed to do so," the petition says.
"We call on all those who stand for such basic rights as freedom of speech, freedom of the press, and the right to protest to join us in demanding the immediate release of activists targeted by the Egyptian regime in the exercise of their democratic rights and an end to the government's use of repression against all those who wish nothing more than the dignity of having their voices heard," it concludes.
The solidarity petition has been signed by people from over 15 countries including Australia, UK, US, Canada, Spain, Germany, France, South Africa, India, Poland, Portugal and Brazil.
Last week, sixteen Egyptian human rights organisations released a statement demanding swift investigations into the "increasing and shocking allegations of torture and sexual assaults against those detained at police stations since 25 January 2014."