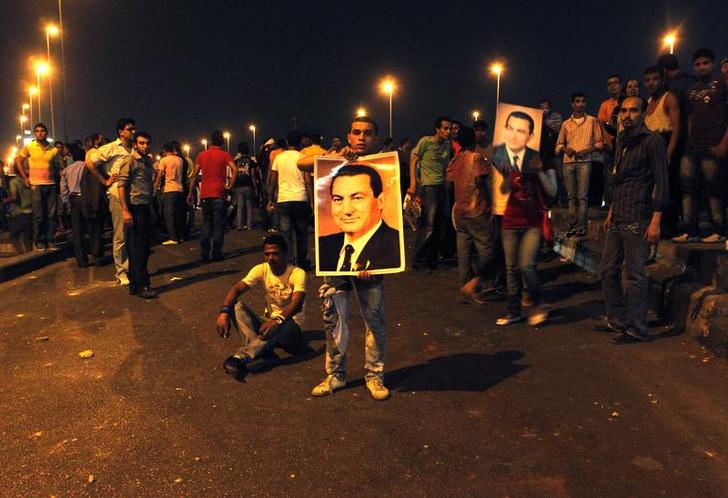 Protesters hold a pro-Mubarak rally to mark the 83rd birthday of former president Hosni Mubarak in central Cairo, May 4, 2011. REUTERS/Asmaa Waguih
Dozens of protesters congregated on Thursday outside Egypt's Memorial to the Unknown Soldier in Cairo's Nasr City, where they attempted to erect a metal statue of Hosni Mubarak while chanting slogans in support of the deposed president.
Mubarak supporters, carrying an amateur bust of the former president, stood outside the memorial to commemorate the 31st anniversary of Sinai Liberation Day.
A similar protest was also held in the middle-class district of Mohandeseen on Thursday afternoon.
Both rallies were attended by members of pro-Mubarak groups 'We're Sorry Mr. President' and the 'Sons of Mubarak.'
They carried banners reading, 'We miss the Mubarak days' and 'Ask about Mubarak in Sinai and she'll tell you he freed her.'
Protesters also held posters depicting Mubarak's image; others set off fireworks outside Mohandeseen's Mostafa Mahmoud Mosque.
The 84-year-old Mubarak is currently in police detention where he is awaiting trial for a host of corruption charges.
On 20 April, a judge ordered Mubarak's release without bail pending retrial for charges of complicity in the killing of unarmed anti-regime demonstrators during Egypt's 25 January 2011 revolution.