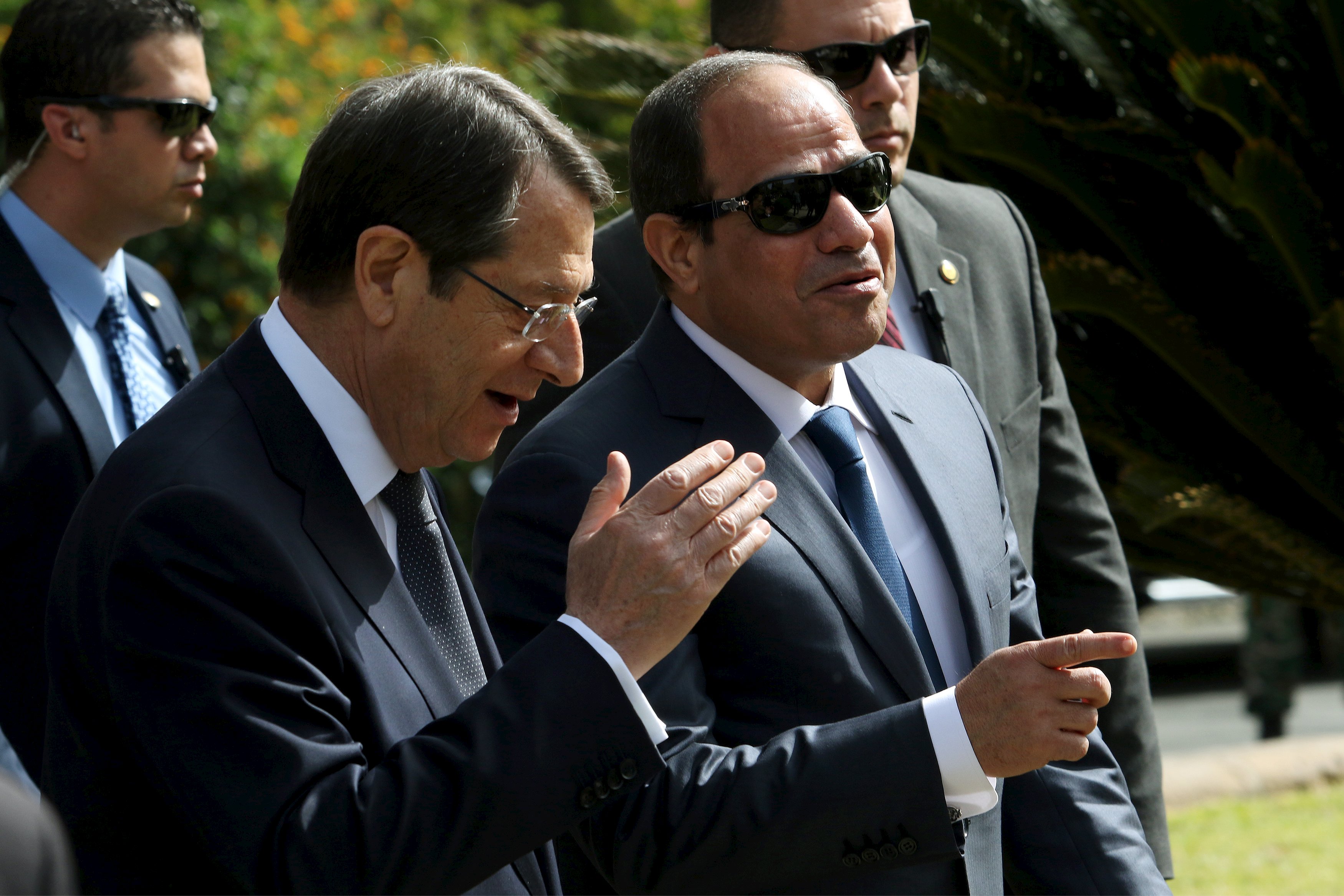 Cypriot President Nicos Anastasiades (L) and Egyptian President Abdel Fattah al-Sisi chat as they enter the Presidential Palace in Nicosia, April 29, 2015. Sisi was in Cyprus to discuss regional cooperation with Anastasiades and Greek Prime Minister Alexis Tsipras. REUTERS/Yiannis Kourtoglou
CAIRO, Apr 29 (Aswat Masriya) - Egypt's President Abdel Fattah al-Sisi arrived in Cyprus on Wednesday, where he met with Cypriot counterpart Nicos Anastasiades.
Sisi was accompanied by Petroleum Minister Sherif Ismail, Foreign Minister Sameh Shukri and Investment Minister Ashraf Salman, according to a statement by the presidency.
The Egyptian president expressed his gratitude for the Cypriot president's support to Egypt within the European Union, said Presidential Spokesman Alaa Youssef in a statement.
Sisi stressed Egypt's unchanged stance toward the Cypriot cause regionally and internationally.
Cyprus is part of a dispute with Turkey due to a division between the Turkish Cypriot Community and the Greek Cypriot one.
The latter controls the internationally recognised Republic of Cyprus, which Turkey does not recognise, whereas the former controls the Turkish Republic of Northern Cyprus, an entity only recognised by Turkey.
Both presidents stressed they are keen on developing relations between their states in the fields of energy, economy and investment.
Sisi is also attending a summit with Anastasiades and the Greek Prime Minister Alexis Tsipras, the presidency had earlier announced.
Cairo had hosted a summit for Sisi, Anastasiades and former Greek Prime Minister Antonis Samaras in November 2014, where they agreed on a new partnership between Egypt and the European Union, with Greece and Cyprus as "ambassadors".
Youssef had earlier said in the statement that Sisi's visit to Cyprus is a follow-up to the November summit.
Nicosia is the first stop on Sisi's trip. The president is also scheduled to fly to the Spanish capital of Madrid, where he will meet Spanish King Felipe VI and Prime Minister Mariano Rajoy.