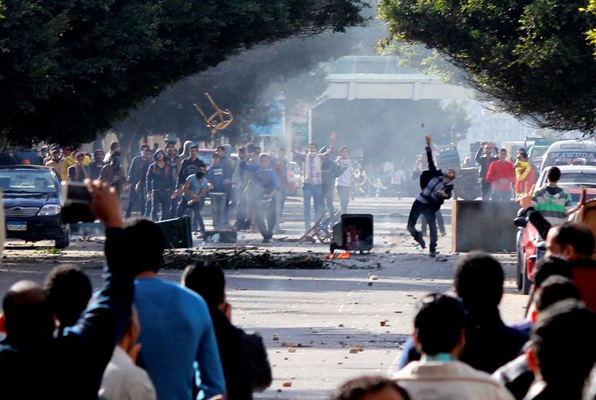 Supporters and opponents of ousted Egyptian President Mohamed Mursi clash at the main university in Alexandria, January 23, 2014. REUTERS/Al Youm Al Saabi Newspaper
CAIRO, Nov 10 (Aswat Masriya) – October witnessed a rise in the rate of protests, as 643 protests were held during the month, the majority of which were organised by students, said Democracy Index.
The Cairo-based index released on Monday a report on the rate of protests in October, noting a rise in the number of protests held during the month by 130 protests, compared to September.
Students took the lead with 209 protests held in October, making up 32.5 percent of the protests held during the month. Students' top demand was releasing detainees, a demand which 256 protests called for.
Muslim Brotherhood protests ranked second, with 204 protests held (31.7 percent). Residents' protests made up 17 percent of October's protests (108 protests), while labourers held 94 protests.
Political demands made up 66 percent of October's protests, while social demands were called for in 34 percent of the protests. Some of the top demands called for during the protests included: "ending the military rule" (69 protests), condemning "terrorist" acts (54 protests) and condemning the police's "repressive practices" (14 protests).
Protesters used 25 different types of protests, eight of which were of a violent nature, Democracy Index said. Violent protests included: blocking roads (46 protests), disrupting officials' processions (nine protests), breaking into institutions and blocking them (6 protests), torching public and private properties (four protests), as well as one case of suicide and another of attempted suicide.
The majority of October's protests were held in Cairo (151 protests), followed by Giza (66 protests). The index owed this to the "return of the centralist nature of the decision-making process."
The border-governorates of South Sinai and Marsa Matrouh witnessed the smallest number of protests; one protest was held in each governorate.
Democracy Index is a research project issued by the Cairo-based International Development Centre to monitor protests rate in Egypt.