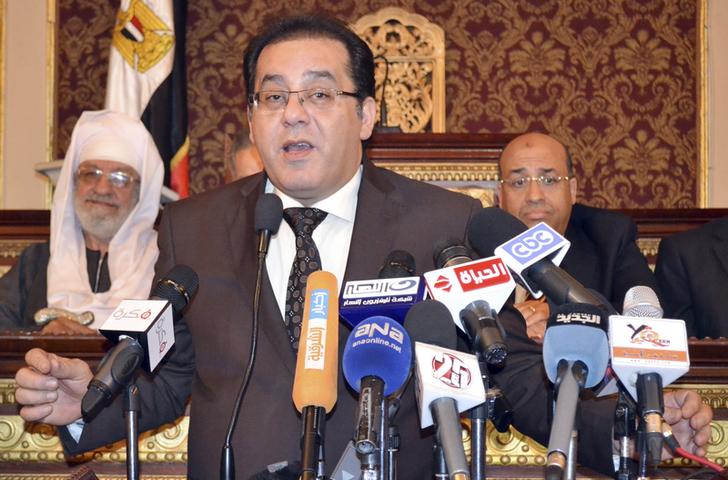 Egyptian politician Ayman Nour speaks during a news conference to announce he has presented his candidacy papers to the Higher Presidential Elections Commission (HPEC), in Cairo March 29, 2012. REUTERS/Stringer
By Amena Bakr
DOHA (Reuters) - An Egyptian liberal politician jailed after he mounted a challenge for the presidency in 2005 said a presidential election that got underway in Egypt on Monday is more one-sided than the one he lost to Hosni Mubarak.
Ayman Nour, a liberal who came a distant second to Mubarak in that election, said the vote which former army chief Abdel Fattah al-Sisi is expected to win was taking place in a "power monopoly" without any real competition.
"Even in Mubarak's time we didn't see this obvious level monopoly in the election process," Nour told Reuters on the sidelines of an event organised by Al Jazeera network in Doha.
"Although there was a high level of corruption then, now we are seeing a huge pressure being put on the media to change people's view," Nour said.
Sisi deposed the Muslim Brotherhood's Mohamed Mursi, Egypt's first freely elected leader, last July following mass protests against his rule. Sisi has one challenger in the election: the leftist politician Hamdeen Sabahi.
The two-day vote concludes on Tuesday.
The military-backed authorities have launched a fierce crackdown on the Islamist opposition since Mursi was deposed, killing hundreds of his supporters and arresting thousands more. Secular dissidents have also been imprisoned.
The authorities also shut down media outlets sympathetic to the Brotherhood, including the Qatari-run Al Jazeera network.
The government has declared the Brotherhood a terrorist organisation and accused it of violence, a charge it denies.
"The truth is these are not real elections. It's more of a process that will just formalise the obvious leader without any form of competition," Nour said.
Shortly after he lost to Mubarak, Nour was sentenced to five years in prison on charges of forgery that were widely viewed as part of a political vendetta. Mubarak was toppled by the army following a popular uprising in 2011.
Nour said the Brotherhood could not be excluded from political life. "We need to find a way out of this dark tunnel and we need to seek reconciliation which was also a huge failing point for the Muslim Brotherhood," said Nour.
Nour said he had been living in Lebanon for the past six months for medical reasons to treat an injury which he had suffered during his jail term. He vowed to go back to Egypt soon. (Editing by Tom Perry and Giles Elgood)