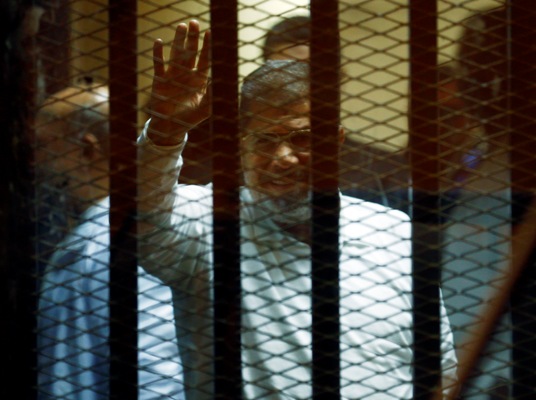 Ousted Egyptian President Mohamed Mursi waves behind bars during a his trial with other leaders of the Muslim Brotherhood on charges of spying and terrorism at a court in the police academy on the outskirts of Cairo, November 18, 2014. REUTERS/Amr Abdallah Dalsh
CAIRO, Dec 9 (Aswat Masriya) – Egypt's top prosecutor referred to the military prosecution on Tuesday the investigation into alleged recordings of some members of the Supreme Council of the Armed Forces (SCAF) discussing a legal description for the detention period of former President Mohamed Mursi.
Prosecutor General Hisham Barakat had ordered on Saturday the Supreme State Security Prosecution to investigate the alleged leaks "to find out who is behind the incident."
The alleged recordings went viral on social media networks on Thursday night stirring controversy. They include discussions on how to alter the description of Mursi's detention place from a military to an interior ministry-affiliated prison to avoid a loophole that could result in a court decision to free Mursi.
Barakat announced on Tuesday that the Supreme State Security Prosecution's investigation revealed that the case falls under the military judiciary's jurisdiction.
A lawyer from Mursi's defence team presented to court on Saturday the alleged recordings as evidence in the case where the former president is accused of espionage.
A representative from the public prosecution submitted to the Cairo Criminal Court on Tuesday a copy of Barakat's decision to refer the investigation to the military prosecution.
Mursi is facing the Cairo Criminal Court on Tuesday alongside other Muslim Brotherhood leaders accused of inciting the killing of protesters by the presidential palace in December 2012.
The prosecutor general had described the leaks as "false news" in a statement issued on Friday, accusing Mursi's Muslim Brotherhood of fabricating the recordings.
The authenticity of the recordings was also denied by a military source. The source, who preferred to remain anonymous, blamed hostile foreign intelligence services and the Muslim Brotherhood for "fabricating" the recordings.
Mursi's presidential palace and espionage cases will be "ruined", due to his detention in an illegal location since July 3, one of the recordings, allegedly belonging to SCAF Member Mamdouh Shahin, revealed.
Mursi was ousted by the military on July 3, 2013, following mass protests against his rule. His first public appearance was made during the first session of his trial in the presidential palace clashes on November 4, 2013.