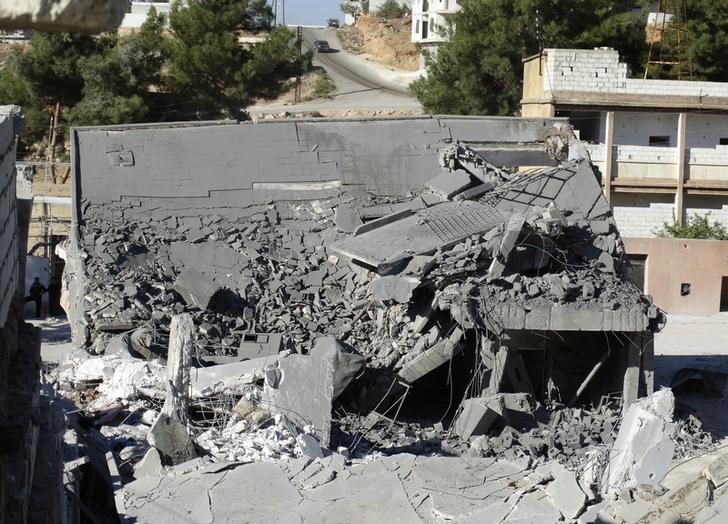 A general view shows a damaged base of the al Qaeda-linked Nusra Front, that was targeted by what activists said were U.S.-led air strikes in Harem town in Idlib Governorate November 6, 2014. REUTERS/Abdalghne Karoof
CAIRO (Reuters) - Egypt's interior ministry said on Wednesday it had arrested an Egyptian militant who had returned from fighting in Syria with a group linked to the al Qaeda affiliate Nusra Front in order to train Egyptians in bombmaking.
A statement posted to the ministry's Facebook page said Hany Shaheen Ali Shaheen confessed to receiving orders from the Islamist Furqan Brigade to train Islamists in Egypt's Gharbia province.
The return of fighters with experience in Syria and Iraq could bring more violence to Egypt and complicate efforts to stabilize a country that has seen two presidents toppled since 2011 and witnessed a surge in militant attacks in the past year.
Egypt's state television broadcast a video purporting to show Shaheen's confession.
"I traveled to Syria about a year ago," said a bearded man. "I was trained to use Kalashnikovs and explosives with the Furqan Brigade...in Homs," a central Syrian city.
Reuters was not immediately able to confirm Shaheen's connection to Nusra, which has fought against Syrian President Bashar al-Assad's forces as well as rival militants from Islamic State and has recently come under attack by U.S. air strikes.
The ministry also said it had uncovered five "terrorist cells" composed of 38 Islamists in Gharbia who it said were complicit in blocking roads and violence that had wounded 7 policemen and 14 civilians.
Militant attacks across Egypt have surged since July 2013 when the army ousted President Mohamed Mursi following mass protests and then cracked down hard on his Muslim Brotherhood, labeling it a terrorist organization and arresting thousands of members.
The government does not differentiate between radical Islamist groups like Ansar Bayt al-Maqdis based mostly in the Sinai Peninsula and the Brotherhood, which maintains it is peaceful and has denied involvement in recent anti-state violence.
Ansar, which has killed hundreds of police and soldiers in the past 16 months, pledged loyalty to Islamic State last week.
Egypt is well aware of the risks posed by its citizens going abroad for jihadist causes and then returning. Egyptians who fought Soviet occupation troops in Afghanistan in the 1980s eventually took up holy war at home, training their weapons on Egyptian security forces and carrying out bombings.
(Reporting by Ali Abdelatty and Stephen Kalin; Writing by Stephen Kalin; editing by Ralph Boulton)