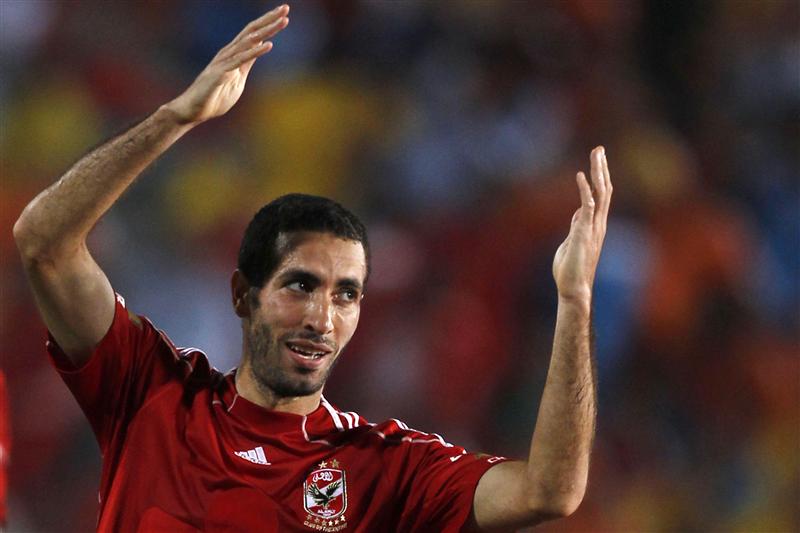 Egyptian football player Mohamed Aboutrika. REUTERS/Archive
CAIRO, May 8 (Aswat Masriya) - The committee established to manage the funds of the Muslim Brotherhood said on Friday its confiscation of a tourism company established by renowned footballer Mohamed Aboutrika comes in compliance with a court order.
The committee said in a statement that the company, Ashab Tours was co-established by a "leading Muslim Brotherhood" figure.
It added that the company's manager, Mohamed al-Qadi is a "leading Muslim Brotherhood figure" who is currently in custody and accused of committing anti-state hostilities and using the company's assets to fund "terrorist operations".
The committee said that Aboutrika has filed a challenge to its decision to confiscate the company, adding that it will look into the challenge.
Commenting on the confiscation, Aboutrika said on his official twitter account late Thursday: "Confiscate the money, or whomever. I will not leave the country and I will work in it and work for it to prosper."
The committee was formed following a September 2013 court ruling which ordered banning the Brotherhood's activities in the country. The ruling stipulated banning activities of any association that branches from the Brotherhood, that was founded by Brotherhood funds or that receives any form of support from the Brotherhood.
Egypt listed the Brotherhood as a terrorist organisation in December 2013 and insists it is behind the stringent wave of militancy which has targeted security personnel since the ouster of former Islamist President Mohamed Mursi. The Brotherhood continuously denies the accusations.