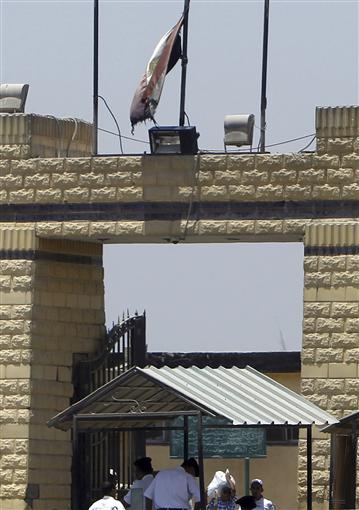 Policemen and people walk in front of the main gate of Tora prison, where former Egyptian president Hosni Mubarak and his former Interior Minister Habib al-Adli are held at, in the outskirts of Cairo June 4, 2012. REUTERS/Amr Abdallah Dalsh
CAIRO, Mar 30 (Aswat Masriya) - A delegation from the National Council for Human Rights visited a prison on Wednesday, recommending that an urgent investigation is conducted into incidents reported by prisoners, the council said.
The council members went to the Abu Zaabal prison in the northeast of Cairo and met with four prisoners over complaints filed to the country's top prosecutor "about being subjected to beatings, assaults, humiliation and torture," a statement from the council's media office said.
The delegation members found beating marks on one of the prisoners and sensed "panic and extreme fear" among the prisoners, who said they were indirectly threatened by the prison authorities, should they tell the delegation what happened.
According to the council's statement, the prison authorities took disciplinary action against the four prisoners, placing them in "inhumane conditions" for periods ranging between a week and 16 days.
They were placed in rooms where there was no ventilation, they could not relieve themselves and were provided with water unsuitable for human use and food lacking in both quality and quantity.
The council members say prison authorities are not following the articles of the new prison bylaws on visits to prisoners and on the exercise they are allowed.
They added that the majority of prisoners they met were students who spent long times behind bars, ending their educational lives.
The delegation said it was necessary to implement the bylaws and recommended reconsidering articles on detaining people pending trial or investigation.