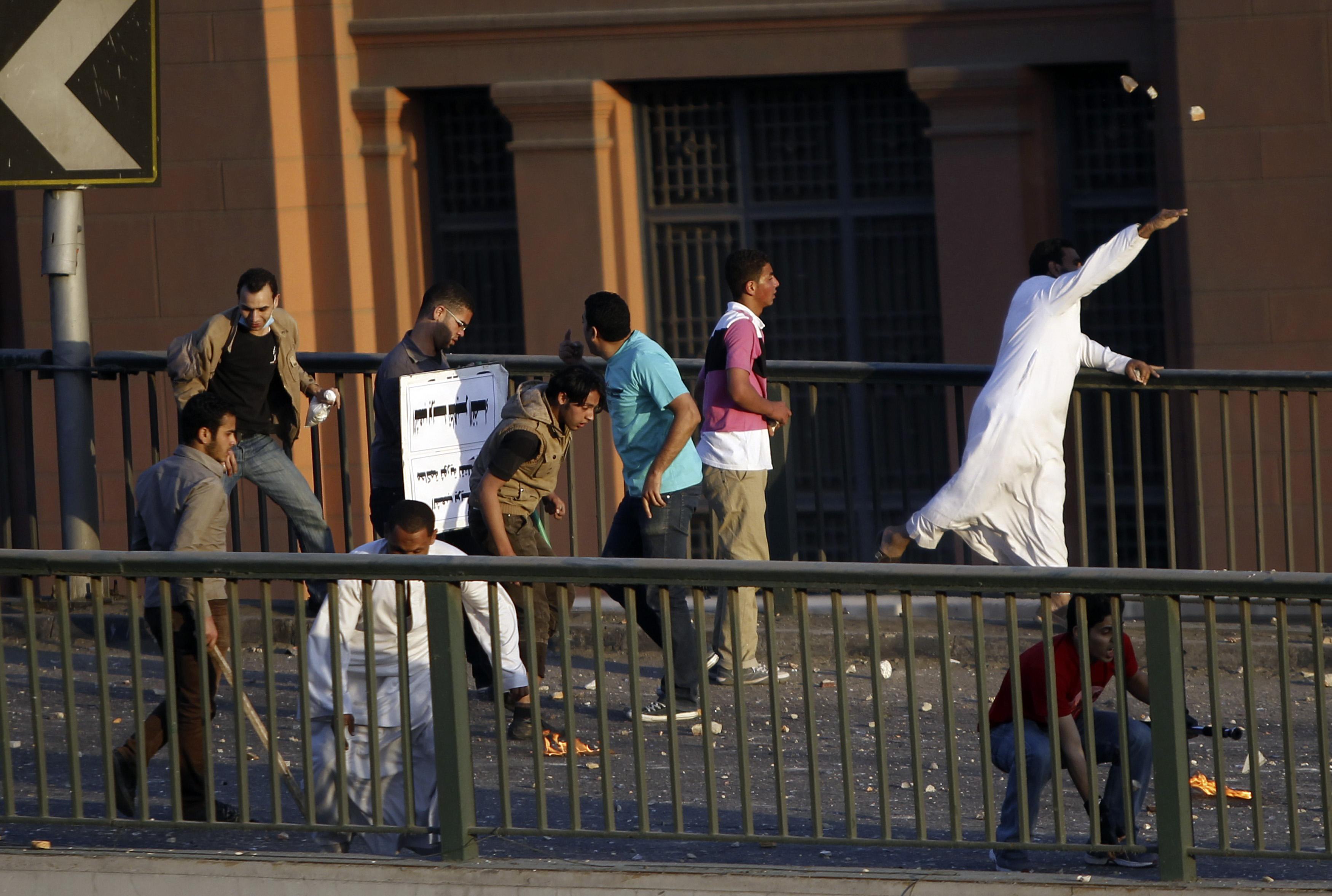 Muslim Brotherhood members and Islamist protesters throw stones at protesters opposing Egyptian President Mohamed Mursi in front of the Egyptian Museum at Tahrir Square in Cairo, April 19, 2013.
CAIRO, Jul 15 (Aswat Masriya) - Egypt's acting prosecutor general referred 198 alleged Muslim Brotherhood members to military judiciary on Wednesday, for complicity in "terrorist crimes" in Giza and Gharbia.
The prosecution said its investigation revealed that the Muslim Brotherhood formed a committee to serve as the group's military wing, under the supervision of late Brotherhood leader Abdel Fattah Ibrahim.
Ibrahim was shot dead alongside eight other Brotherhood leaders during a security raid on an apartment in Cairo's October 6 suburb two weeks ago.
The Interior Ministry said the nine leaders were holding a meeting to discuss "plots" to carry out "terrorist" attacks, accusing them of shooting at the police as the apartment was raided.
However, Muslim Brotherhood spokesman Mohamed Montaser said the leaders who were killed were "unarmed", adding that the reports on clashes with security forces are "lies".
The 198 defendants referred to military judiciary were accused of targeting judges, individuals, police and military officers, as well as state institutions, as per witnesses' testimonies. Ninety of them were arrested.
Egypt listed the Brotherhood as a terrorist organisation in December 2013 and insists it is behind the wave of militancy which has targeted security personnel since July 2013.
The Brotherhood continuously denies the accusations.