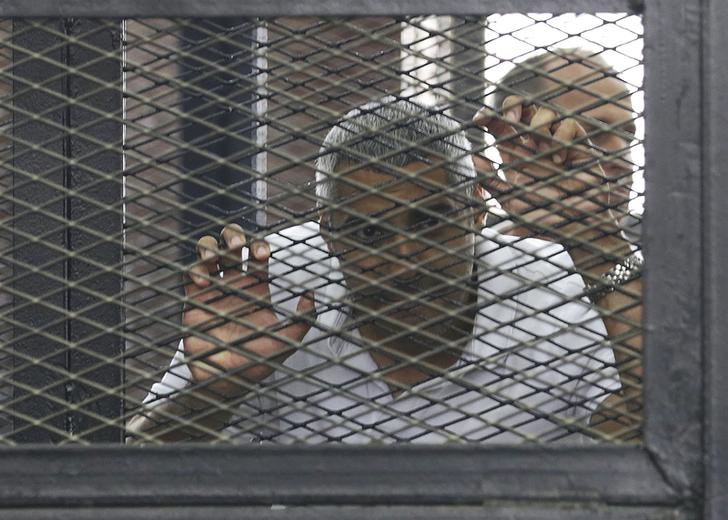 Mohamed Fahmy stands behind bars as he waits to listen the ruling at a court in Cairo June 23, 2014. REUTERS/Asmaa Waguih
CAIRO, Oct 20 (Aswat Masriya) – A delegation of Arab journalists urged President Abdel Fattah al-Sisi to pardon imprisoned journalists in Egyptian prisons on Monday.
Sisi met with the delegation of Arab journalists at the presidential palace, presidential spokesman Alaa Youssef said.
Sisi said he understands "the best way to deal with violations committed by some [foreign] journalists is to deport them." He nevertheless added that Egypt's judiciary is "fully independent" and that "commenting on court rulings is not possible," Youssef said.
The president also reminded that Egypt's laws necessitate the issuance of a final ruling against any defendant before a presidential pardon is applicable.
During the meeting, Journalists' Syndicate Head Diaa Rashwan noted that only five Egyptian journalists are currently imprisoned in cases "not related to publishing." He added that the syndicate had provided them with all necessary legal assistance.
Rashwan also urged Sisi to pardon the said journalists once a final ruling is issued against them.
According to international watchdog Reporters Without Borders, 14 journalists are currently behind bars in Egypt.
At least two of them are foreign nationals; the Australian Peter Greste and the Egyptian-Canadian Mohamed Fadel Fahmy. Both worked for Qatari news network al-Jazeera and were sentenced to seven years in prison in June for a number of charges including "creating a terrorist media network." Their sentencing has been widely condemned by several international bodies and representatives.