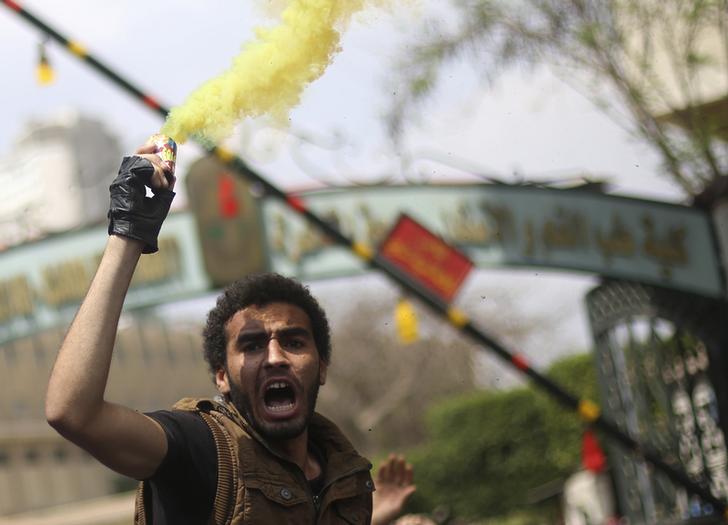 A student, who is a supporter of the Muslim Brotherhood and ousted President Mohamed Mursi, shouts slogans in protest against the military and interior ministry in front of the faculty of Oral & Dental Medicine in Cairo University at Kasr El Aini street in downtown Cairo, April 9, 2014. REUTERS/Amr Abdallah Dalsh
CAIRO, Feb 5 (Reuters) - One person was killed in an attack on a Kentucky Fried Chicken restaurant in a town north of Cairo early on Thursday, Egypt's state news agency MENA reported.
A fire broke out at the restaurant in a town in the province of Menoufia, 80 km (50 miles) north of the capital, after assailants on a motorcycle threw flammable materials and then opened fire, it said. One person was wounded.
Frequent small-scale attacks on security forces have hurt Egypt's efforts to project an image of stability after four years of turmoil triggered by the 2011 Arab Spring uprising.
Egypt was hoping to ease security concerns before holding an investment conference in the resort city of Sharm el-Sheikh in March.
Last week, Islamic State's Egypt affiliate claimed responsibility for coordinated attacks on security forces in the Sinai Peninsula that killed at least 30 people.
Islamist militants based in Sinai have stepped up attacks on police and soldiers since the army toppled president Mohamed Mursi of the Muslim Brotherhood in July of 2013 after mass protests against his rule.
Hundreds of police and soldiers have been killed.
Egypt has launched a fierce crackdown against Islamists, conducting counter insurgency operations in Sinai against militants who have pledged allegiance to Islamic State and systematically repressing Muslim Brotherhood supporters.
The Brotherhood, which says it is committed to peaceful activism, has accused the military of staging a coup and rolling back freedoms won in the 2011 uprising that toppled autocrat Hosni Mubarak. (Reporting By Ali Abdelaty; Writing by Maggie Fick; Editing by Michael Georgy and Dominic Evans)