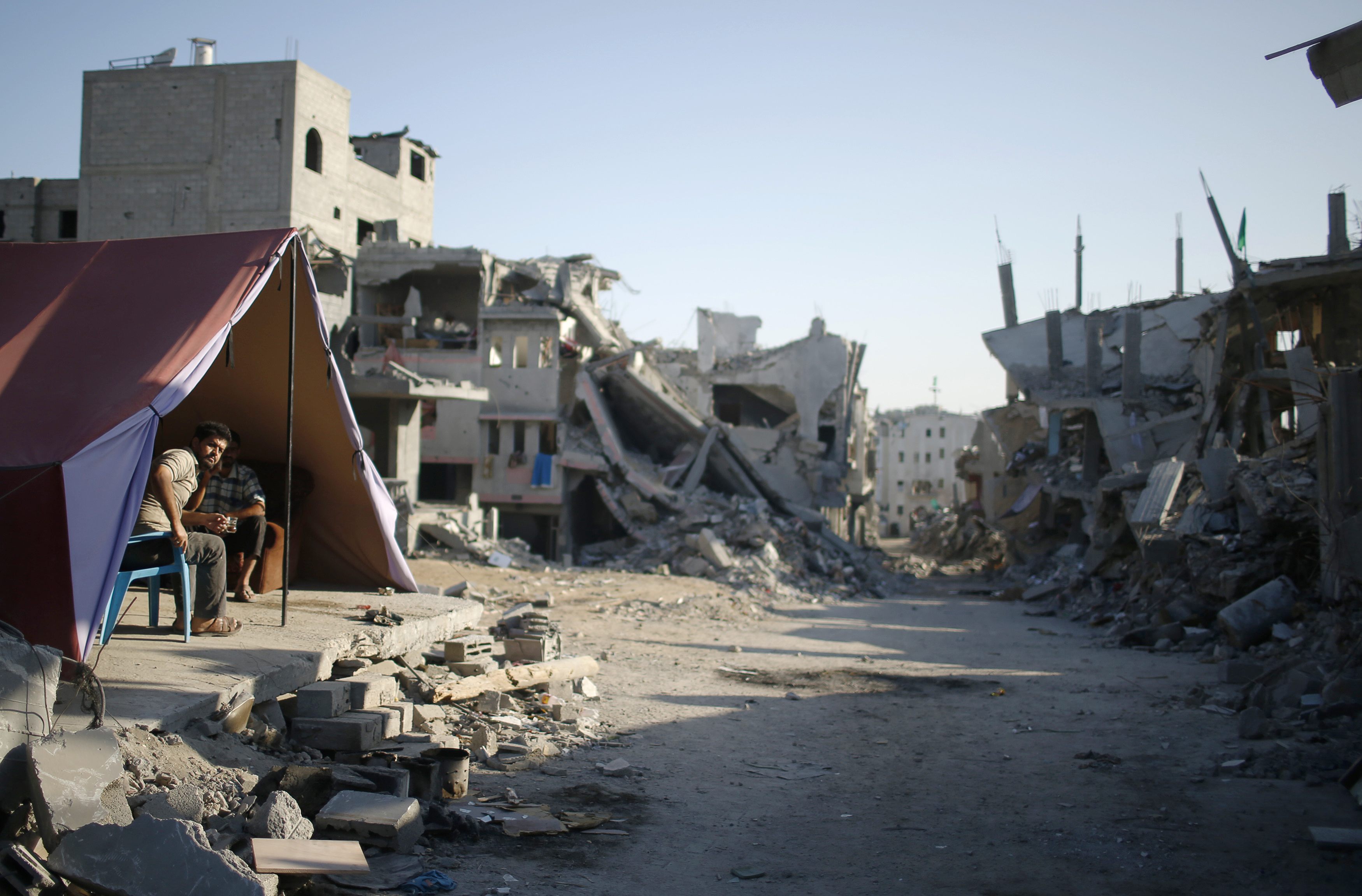 Palestinians sit in a tent erected upon the ruins of their house, which witnesses said was destroyed during the seven-week Israeli offensive, as the remains of other houses are seen in the east of Gaza City September 22, 2014. REUTERS/Mohammed Salem
CAIRO, Sept 22 (Aswat Masriya) – Cairo will host on Tuesday an "exploratory" round of indirect negotiations between Israel and the Palestinians to reach a permanent agreement over contentious issues, the foreign ministry said.
Egypt announced on August 26 reaching a ceasefire agreement within the Gaza strip, ending a war between Israel and Gaza's ruling body Hamas that has left 2139 Palestinians killed and over 11,100 injured. On the Israeli side sixty-four soldiers and six civilians were killed.
Indirect negotiations between Israel and Palestinian factions, sponsored by Cairo, were scheduled to resume within a month after the start of the new Gaza ceasefire, as per the agreement.
The latest round of negotiations represents a new episode of Egypt's ongoing efforts to maintain the ceasefire and prevent innocent casualties and the destruction of vital institutions, Egypt's foreign ministry said in a statement released on Sunday.
"Restoring peace and stability in the Gaza strip will push forward the efforts to reconstruct the strip and restore normal life within it," the ministry said.
Egypt is hosting an international donors conference on Gaza's reconstruction on October 12, in cooperation with Norway.
The ministry also announced that Egypt will host a Cairo-sponsored Palestinian meeting on Monday for reconciliation among different Palestinian factions. The meeting comes in preparation for the indirect negotiations, the ministry said.
Egypt had tried to enforce a lasting ceasefire agreement for over a month to end the fighting in Gaza, which started on July 8 when Israel launched an offensive on the strip to halt rocket-fire from Gaza's ruling body, Hamas. Until the August 26 ceasefire, negotiations only helped reach short-lived ceasefire truces which were often breached.