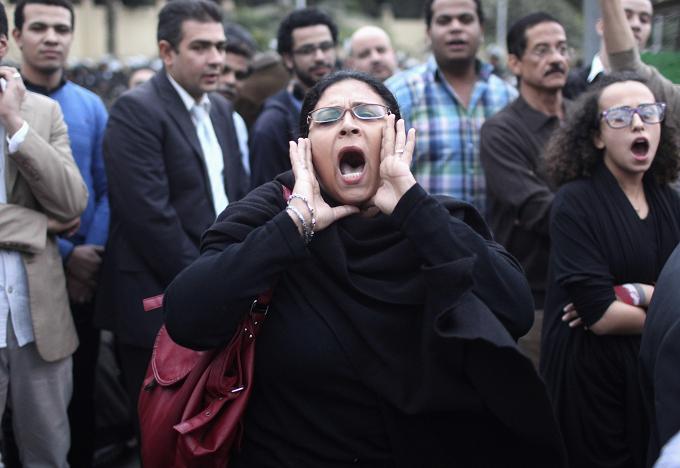 A protester chants anti-Mursi slogans in front of the presidential palace in Cairo December 4, 2012. REUTERS/Asmaa Waguih
Tens of protesters have set up tents by Egypt's presidential palace in a sit-in against a constitutional decree issued by President Mohamed Mursi and a draft constitution written by an Islamist-dominated assembly.

Opposition forces marched to the Heliopolis palace on Tuesday demanding "the downfall of the regime" and expressing outrage to Mursi's attempt to expand his powers or pass a controversial charter.

Mursi issued a constitutional decree on November 22 shielding his decisions from court challenges while an Islamist-dominated assembly finished drafting a new charter on Friday allowing it to be put to a referendum on December 15.

Liberal, leftist and socialist forces have widely denounced the two moves, considering the former as an attempt to undermine the judiciary and the latter a step towards an Islamist state.

The liberal Dostour Party, founded by Nobel Laureate Mohamed ElBaradei, asked protesters to uphold their sit-in until Friday and continue to push for their demands through further marches to the president's office.

No central security forces were seen by the palace, an eyewitness told Aswat Masriya.

Clashes erupted on Tuesday evening when some protesters broke the barricades in an attempt to get closer to the palace. Security forces responded with teargas to disperse the protesters then retreated.

The protesters chanted many slogans against Mursi and the Muslim Brotherhood to which he belongs, and some handed out fliers with information on the new charter.