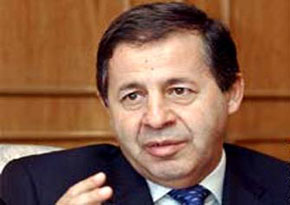 Former Minister of Trade and Industry, Rashid Mohamed Rashid
CAIRO, Aug 20 (Aswat Masriya) – An Egyptian court sentenced on Wednesday former Foreign Trade and Industry Minister Rashid Mohamed Rashid to 15 years in prison for illicit gains.
Rashid was sentenced in absentia alongside his daughter Alia Rashid, who was served the same jail sentence. Both defendants were also ordered to pay a fine worth of 522 million Egyptian pounds.
Gamil Saeed, the defendants' lawyer, told Aswat Masriya that the sentence will be revoked as soon as a retrial begins, since it was issued in the absence of the defendants and their lawyer.
Rashid and his daughter are accused of seizing 500 million Egyptian pounds and smuggling the money to Cyprus.
The Illicit Gains Authority referred the defendants to court in March. It also issued an international arrest warrant for them.
Rashid, who served as minister during former President Hosni Mubarak, fled the country with his daughter during the January 25 uprising which toppled Mubarak in 2011.