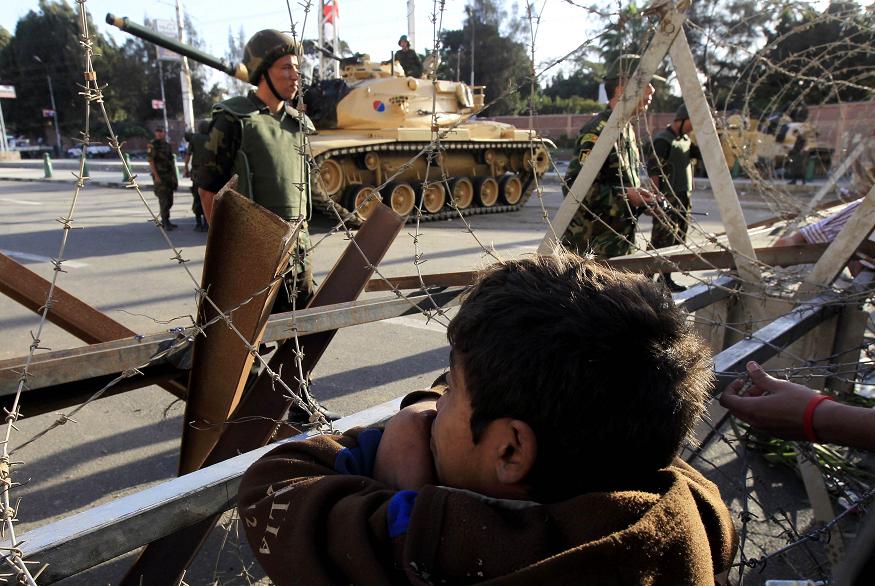 A boy standing behind a barbed wire barricade looks at members of the Republican Guard who have closed a road leading to the presidential palace in Cairo, December 6, 2012.REUTERS/Mohamed Abd El Ghany
Egypt's Coalition for Child Rights (ECCR) denounced on Tuesday the act of some members of the Freedom and Justice Party (FJP) of the Muslim Brotherhood group who arrested four children on Monday in front of the party's headquarter in Mukattam.
The FJP members turned the children in to the police station, accusing them of attempting to burn the party headquarters.
Lawyer of the Coalition said that arresting the children came in effect of the prosecution's decision that authorizes citizens to arrest others.
He said that up to this moment the children, aged between 15 - 18 years, are still detained.
Egypt's general prosecution issued a decision on Sunday that grants individual citizens the right to turn in whoever is caught in the criminal act of vandalism to the authorities.
The Coalition demanded the quick release of the detained children, explaining that their arrest contradicts Article 119 of Child Law which bans preventive custody of children.
Egypt's Child Law requires that children who are accused of a crime to be handled exclusively by the Child Court.
The Coalition has previously warned the current cabinet of the repercussions of violating child rights, considering them as crimes against humanity.
The Coalition said it will pursue legal actions against officials for these violations on both the national and international levels.