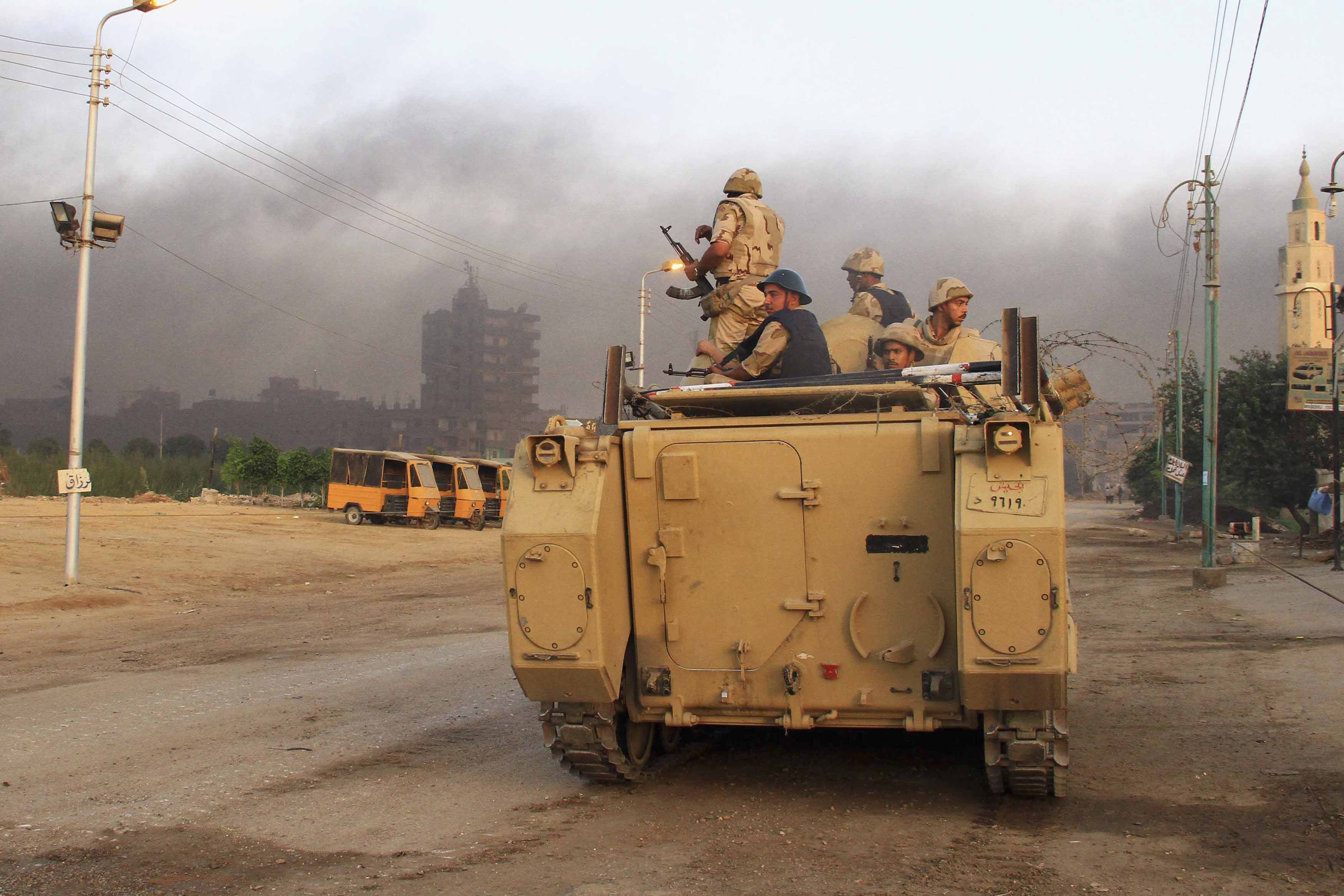 Security forces take their positions during clashes with gunmen in Kerdasa, a town 14 km (9 miles) from Cairo, September 19, 2013. REUTERS/Stringer
By Asma Alsharif
CAIRO, Sept 20 (Reuters) - Egyptian security forces were hunting for armed supporters of deposed President Mohamed Mursi's Muslim Brotherhood on Friday after retaking control of a town near Cairo in a crackdown on Islamists.
Security sources said 85 people had been arrested since troops and police stormed Kerdasa on Thursday, but the area had not yet been stabilised. State television said dozens of weapons including rocket-propelled grenades had been seized.
Islamist sympathies run deep in Kerdasa and hostility to the authorities has grown since the army overthrew and imprisoned Mursi on July 3.
Already, al Qaeda-inspired militants based in the Sinai Peninsula near Israel have been attacking security forces in the area almost daily, and slowly expanding their operations, most spectacularly with a suicide attack on the interior minister in Cairo. The army has responded with air and ground attacks.
The violence has revived memories of the 1990s, when an Islamist insurgency featuring high-profile attacks on Westerners and senior government officials ravaged the tourist industry, one of the pillars of the economy.
Egypt's finances and economy were already creaking under Mursi and have taken a further turn for the worse since the army toppled him following mass protests against his rule.
A police general was shot dead during the Kerdasa operation and at least nine policemen and soldiers were wounded by a hand grenade in clashes with militants on Thursday.
Security forces had been absent from the area since Aug. 14, when 11 police officers were killed as Kerdasa's main police station was hit by rocket-propelled grenades and set on fire.
WAVE OF VIOLENCE
The attack was part of a wave of Islamist violence that broke out in response to the smashing of pro-Mursi protest camps in Cairo in which hundreds of Mursi supporters were killed.
A police officer at the scene on Friday said around 150 arrest warrants had been issued for people suspected of the attack on the police station or of an attack on a church in Kerdasa.
Army-backed authorities, who say they are waging a "war on terrorism", have arrested top Brotherhood leaders to try to neutralise one of the Middle East's most influential Islamist movements. The mostly state-controlled media have portrayed the Brotherhood as bloodthirsty enemies of the state.
On Friday, a funeral service for the police general who was killed was televised live on state television, which ran a caption reading "Egypt confronts terrorism".
Despite mounting pressure on the Brotherhood, the group still stages regular protests in the hope that Egyptians will turn against the military.
But army chief Abdel Fattah al-Sisi, who ousted Mursi, is highly popular, and few doubt that, if he chose to run for president, he would win.
Two people were wounded at a demonstration on Friday in clashes between Mursi supporters and opponents in the city of Suez, security officials said.
In Sinai, a bomb blew up near three buses carrying soldiers towards Rafah, near the border with Gaza, but there were no injuries, security sources said. (Editing by Michael Georgy and Kevin Liffey)