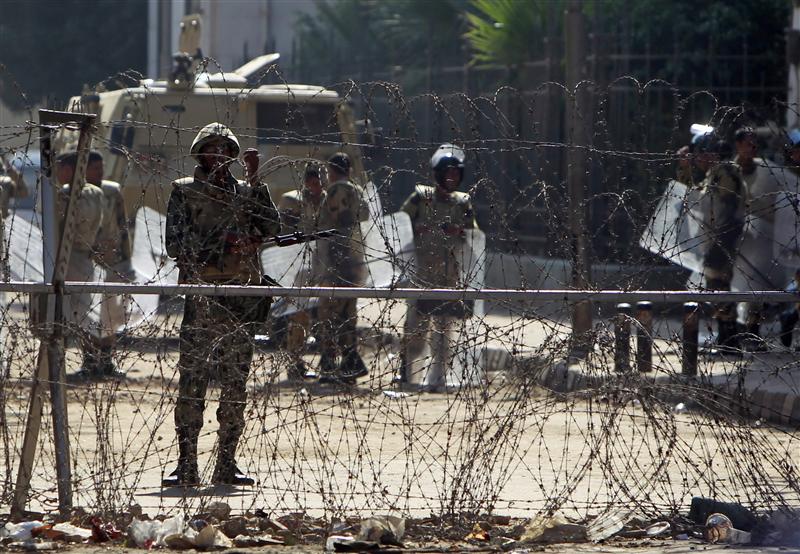 Egyptian army soldiers guard Mohamed Mahmoud street which leads to the Interior Ministry, where clashes between protesters and security force took place in late November, near Tahrir Square in Cairo December 5, 2011. Picture taken December 5, 2011. REUTERS/Amr Abdallah Dalsh
Fifty political parties and movements plan to commemorate the anniversary of violent clashes that erupted on November 19 of last year and dragged on until November 25.

The clashes later became known as "Mohamed Mahmoud" after the near-Tahrir street where they happened.

Clashes between security forces and protesters left over 40 people dead in the incident seen as one of the turning points in the history of Egypt's January 25 uprising.

In a statement on Monday, bodies that intend to commemorate the clashes said that the purpose is to "honor Mohamed Mahmoud heroes through revealing the truth about the events and how it diverted the path of the revolution and to remove all the distorted images from people's memories which were the result of propaganda by the military council and other political forces", reported Al-Ahram.

After Hosni Mubarak was toppled by a popular uprising last year, a military council ruled the country where occasional violent clashes between security forces and protesters left scores dead.

The statement argued that during the Mohamd Mahmoud events, revolutionaries, who it described as "those who stood their ground for five days in the face of treason, betrayal and tyranny", were "abandoned and defamed".

Revolutionary youths will continue to revolt until their demands are met; freedom, dignity, independence and social justice for the people of Egypt, as well as justice for the martyrs, the statement said.

Many political parties and movements signed the statement including the April 6 youth movement and the Dostour Party.