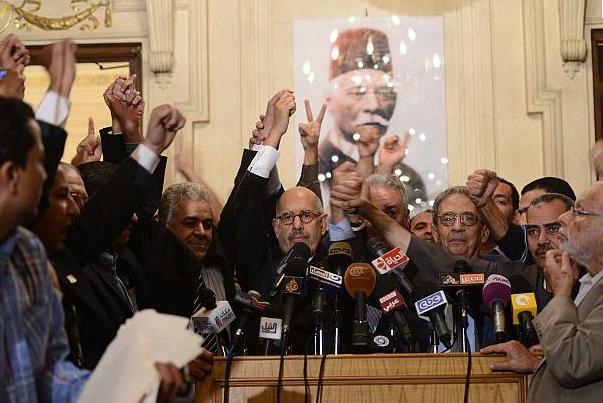 National Salvation Front - photo from Facebook
Egypt's Muslim Brotherhood condemned calls to allow or incite the killing of anyone after a Muslim cleric said that prominent opposition figures should be sentenced to death.
Brotherhood spokesman Mahmoud Ghozlan said in a statement on Wednesday that the Islamist group rejects all calls for violence.
A YouTube video of Salafi (ultraconservative) cleric Mahmoud Shaaban calling for the death of leaders of the National Salvation Front, Egypt's main opposition coalition, had spread over the internet, sparking fury.
Citing religious texts, Shaaban said that former presidential candidate Hamdeen Sabahi and Nobel Laureate Mohamed ElBaradei would be sentenced to death under Sharia (Islamic law) for calling for the toppling of Islamist President Mohamed Mursi.
This has come in light of Tunisian opposition forces accusing their Islamist government of being behind the recent death of a secular figure.
ElBaradei condemned the call for his death on Wednesday on his personal Twitter account, asking, "How many crimes are to be committed against Islam and in its name?"
"Regime silent as another fatwa gives license to kill opposition in the name of Islam. Religion yet again used and abused," the former director of the International Atomic Energy Agency said.